TurnipVegan's Delicious Protein Açaí & Pitaya Bowl Recipe
Prepare yourself for some homemade happiness with @turnipvegan's, otherwise known as Todd Anderson, Delicious Protein Açaí & Pitaya Bowl. Todd is a Vegan Recipe Content Creator based out of San Diego, California. Todd's goal is to support his audience in their plant-based journey through love, compassion, and understanding.
When you visit Turnip Vegan's IG feed you'll be greeted with incredible recipes, great music, and beautifully crafted videos that showcase that Vegan food is fun too! Check the vibes!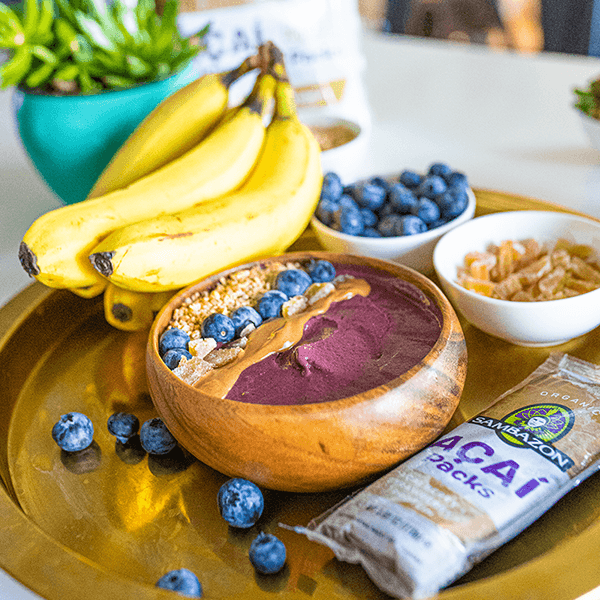 Todd has crafted a bowl of cosmic consciousness for SAMBAZON that you're sure to love. Read on for his words about his Açaí creation:
"It is hard not to smile when fueling up your body after a hard workout while enjoying a delicious Açaí Bowl by SAMBAZON.
It is essential after a workout to fuel your body for a better recovery. Açaí is full of nutrients, including Omega 9. Omega 9 can help support increased energy after a workout. Açaí is also packed with powerful antioxidants and is very low in sugar. SAMBAZON Açaí Superfruit Performance Protein Packs contain 10 grams of plant-based protein from brown rice, perfect for recovery after an intense workout.
I added some peanut butter for extra protein, and it also pairs very well with creamy frozen Açaí. I threw in some blueberries and candied ginger for more nutrients and a more flavorful Açaí Bowl."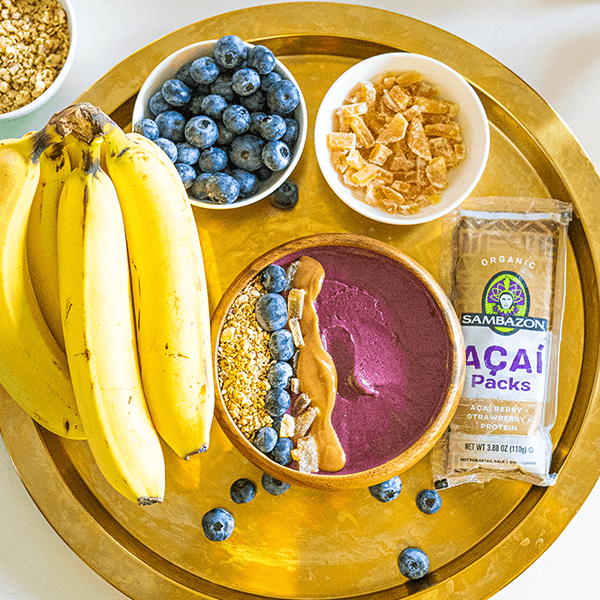 Preparation
Take your SAMBAZON Açaí Superfruit Performance Protein packet out of the freezer to thaw.
Add Açaí, Dragon Fruit Cubes, and frozen banana to a blender.
Add desired amount of Orange juice and blend.
Top with granola, peanut butter, candied ginger, and fresh blueberries!
"There is nothing but big smiles after a hard workout and an enjoyable recovery process."
Together we Açaí
Get recipes, tips, and inspiration delivered to your inbox.
Comments
(0 Comments)
Please note, comments need to be approved before they are published.