Chocolate Dipped Blueberry Açaí Popsicles
Chocolate and Açaí pair perfectly together in this popsicle to create a delicious treat to cool down in the warm weather. For an extra pop of flavor, sprinkle with your favorite toppings such as shredded coconut, nuts, or sprinkles.
3 hours 30 minutes
8 servings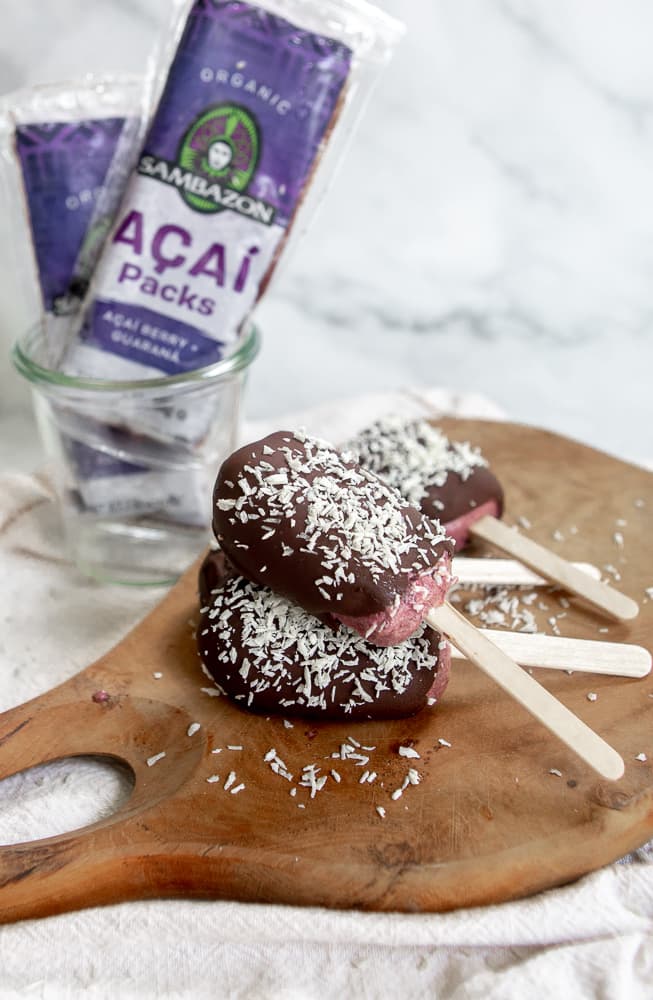 With a dose of antioxidants and healthy fats, these blueberry popsicles are hard to beat! There's few things better than biting into a chocolate shell and being met with a sweet and creamy filling.
To make these popsicles all you need is a silicone popsicle mold, along with a few wooden popsicle sticks and a blender. It's a great activity to do with friends and/or family! Plus, after dipping it in chocolate, each person can add their favorite toppings to make it their own.
Let's break down the benefits of each ingredient below -
Coconut Cream – Coconut cream is the thick cream made from coconut milk. You can buy canned coconut cream as is, or you can refrigerate full fat coconut milk overnight. The next morning, scoop off the thick layer at the top - the coconut cream. Reserve the rest of the liquid to use in a smoothie recipe.
Agave – To sweeten up these popsicles we use a bit of agave. You can also use maple syrup as another natural sweetener option.
Frozen Blueberries – Frozen blueberries contain antioxidants, along with vitamin C. Plus, they pair deliciously with nearly all frozen fruits, and of course, chocolate!
Frozen Cherries – Cherries are a good source of vitamins C and K. For these popsicles, frozen cherries add the perfect sweet and tart flavor. If you don't have cherries, feel free to substitute a different frozen fruit, such as mango, peaches, blackberries, raspberries, etc.
SAMBAZON Açaí Superfruit Pack - Açaí also contains antioxidants and goes with a wide variety of flavors! It tastes delicious when paired with other fruits, such as cherries and blueberries. And, it tastes especially delicious when paired with chocolate.
Dairy Free Yogurt – Along with coconut cream, dairy-free yogurt adds another delicious creamy element to these popsicles. It also helps all the ingredients blend together without having to add any liquid. I recommend using a sweetened vanilla dairy-free yogurt for the best taste.
You can also get creative with the popsicle fillings! Feel free to add in other frozen fruit, nut butter, or even seeds to the blender along with the rest of the ingredients.
Prep Time: 30 minutes | Freeze Time: 3 hours | Ready In: 3 hours and 30 minutes | Yield: 8 mini popsicles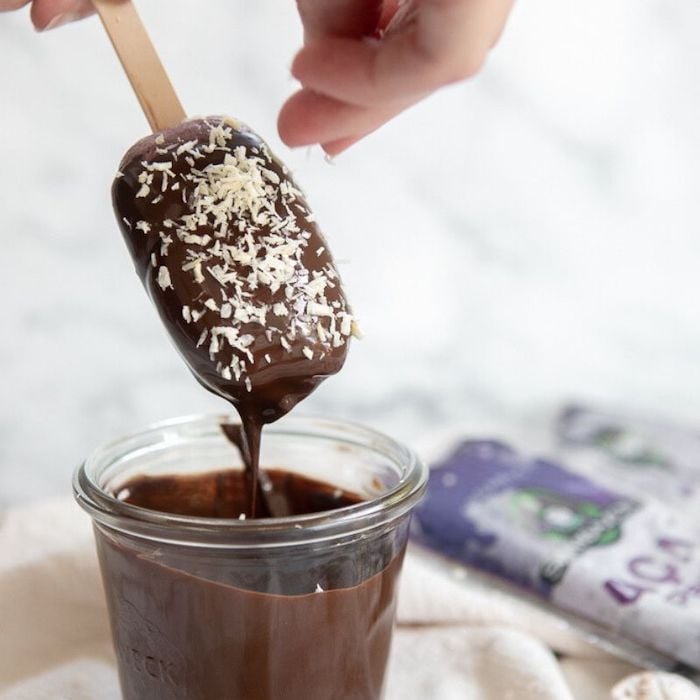 Ingredients
1/ 2 cup coconut cream

1 tbsp agave

⅓ cup frozen blueberries

1/4 cup frozen cherries
1/4 cup non dairy vanilla yogurt
1 cup chocolate chips

1 tbsp coconut oil
Preparation
1. In a high speed blender add the SAMBAZON Açaí Superfruit Pack, coconut cream, agave, frozen cherries, frozen blueberries, and yogurt. Blend until smooth.
2. Insert popsicles sticks into a silicone popsicle mold and pour in the mix. Freeze for at least 3 hours, or ideally overnight.
3. Once the popsicles are frozen, melt together the chocolate chips and coconut oil. Heat in a microwave safe container for 30 second increments until completely melted.
4. Dip the frozen popsicles in the chocolate and top with any additional add-ons (like coconut, nuts, etc).
Creamy, fruity, and coated in a delicious chocolate shell, these popsicles are the perfect way to cool down on a hot day. With hints of cherry, blueberry, and Açaí, they make an easy and delicious frozen treat.
Together we Açaí
Get recipes, tips, and inspiration delivered to your inbox
Comments
(0 Comments)
Please note, comments need to be approved before they are published.