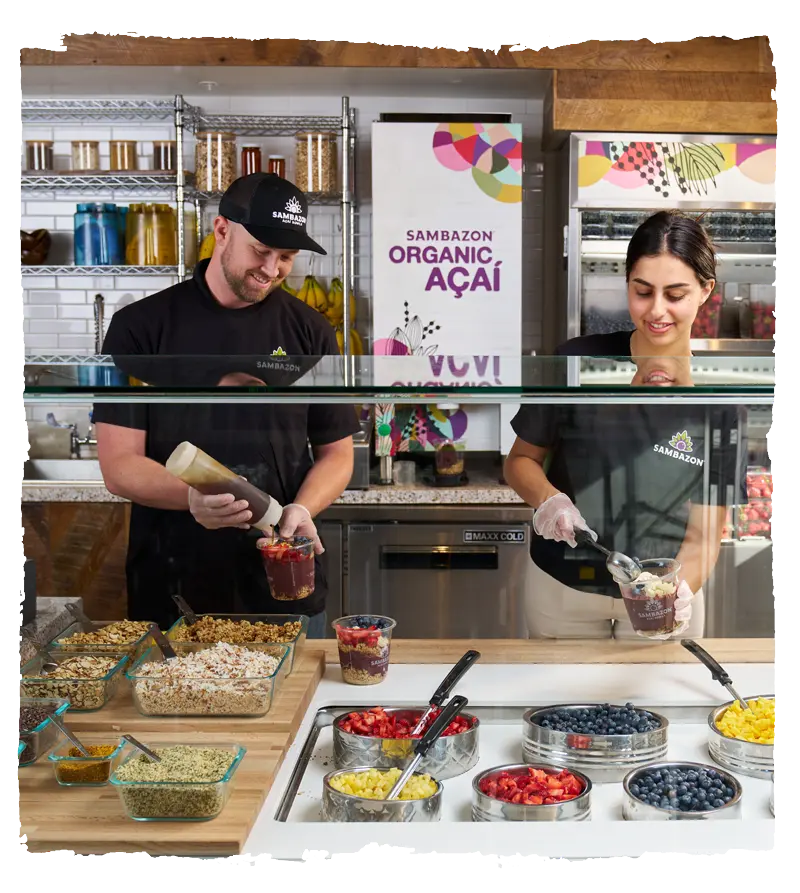 AÇAÍ BOWLS CRAFTED RIGHT BEFORE YOUR EYES
THAT'S THE SAMBAZON EXPERIENCE
SAMBAZON® Açaí Bowls is a quality quick-serve concept offering a variety of handcrafted Açaí bowls, superfood smoothies, crave-worthy traditional Brazilian cheese bread, and more. At the heart of every bowl and smoothie is Organic and Fair Trade certified Açaí, wild harvested in the Brazilian Amazon Rainforest by the world's leading manufacturer and brand.
There's never been a better time to invest in SAMBAZON Açaí Bowls. We offer a unique opportunity for entrepreneurs looking to harness the expertise and success that comes with 23 years of experience in a booming category. Our long-standing presence and established reputation not only offer a sense of security but also position you for sustained growth and profitability. It's a chance to join a well-respected brand, tap into a wealth of knowledge, and be part of something bigger.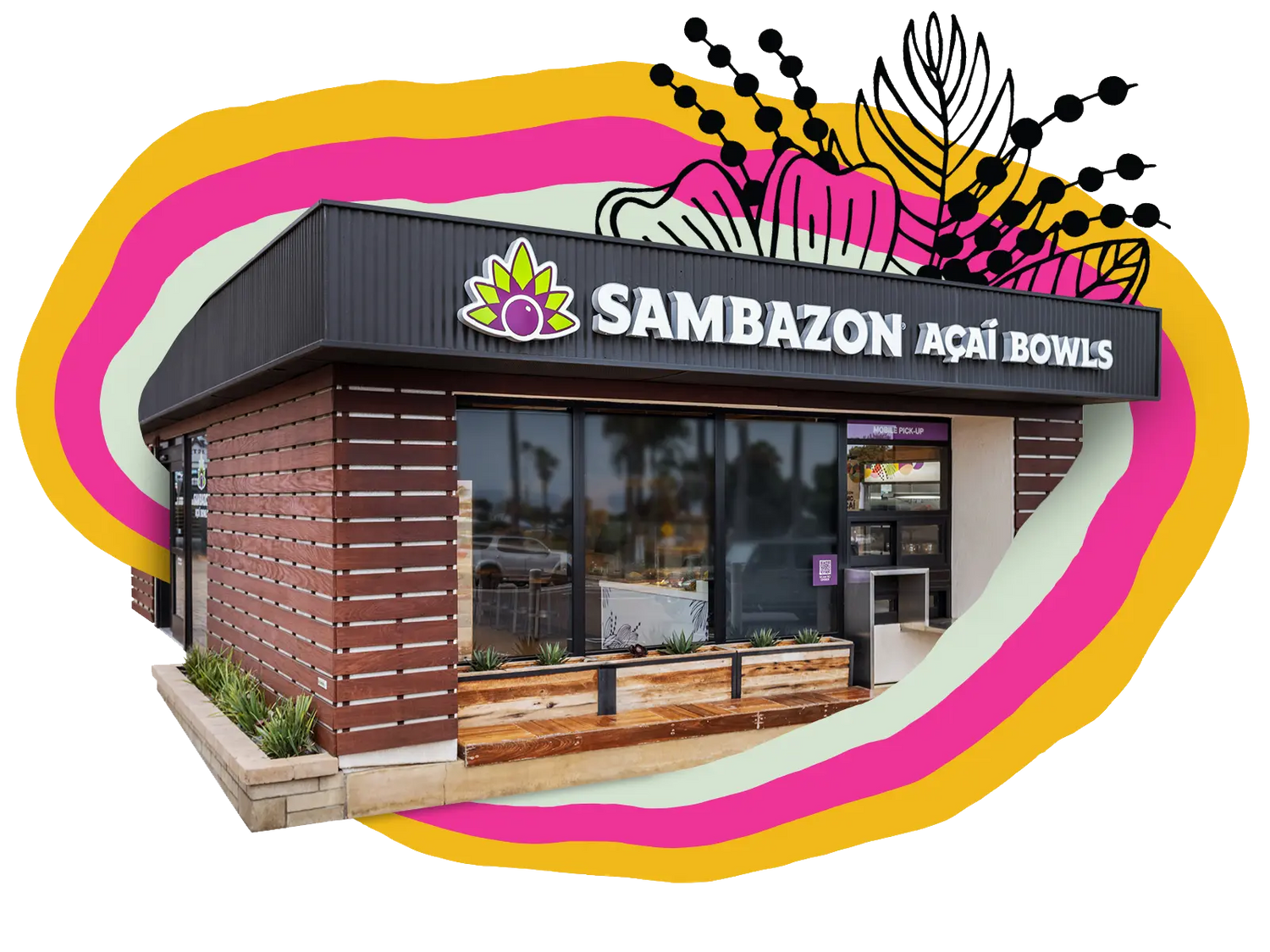 THE ORIGINAL PIONEERS OF PURPLE POWER
As the first certified Fair Trade and Organic Açaí company in the world, no one knows Açaí better than SAMBAZON. For over two decades, we've been the leading brand and supplier of Açaí products in over 50 countries, enabling us to understand your challenges and deliver proven and trusted solutions.
At the core of SAMBAZON is our commitment to the people we work with, the planet we live on, and the prosperity of everyone involved. We call this our 'Triple Bottom Line,' where success is measured economically, socially, and environmentally. This philosophy shaped the development of our certified Organic and Fair Trade Açai supply chain and our best-in-class retail concepts, enabling us to deliver delicious and healthy Açaí consistently and efficiently. From the palm of the tree to the palm of your hand, SAMBAZON is your partner for expanding your business.
OUR EXPERTISE IS YOUR BEST ASSET
We opened our flagship SAMBAZON Açaí Bowls store in picturesque Cardiff-by-the-Sea, CA in 2010 with the vision of spreading Purple Smiles throughout the community. What started as a beloved local hangout became our blueprint for building a successful retail business that supports a healthy and sustainable future—for our customers, team members, and business partners.
LEADING BRAND

#1 Açaí brand in the world

MULTI-FORMAT

Scalable, modular store formats for every customer occasion

RAPID SERVICE

90-second average purchase-to-palm at peak hours

PROVEN FINANCIALS

Simple operations and compelling 4 wall economics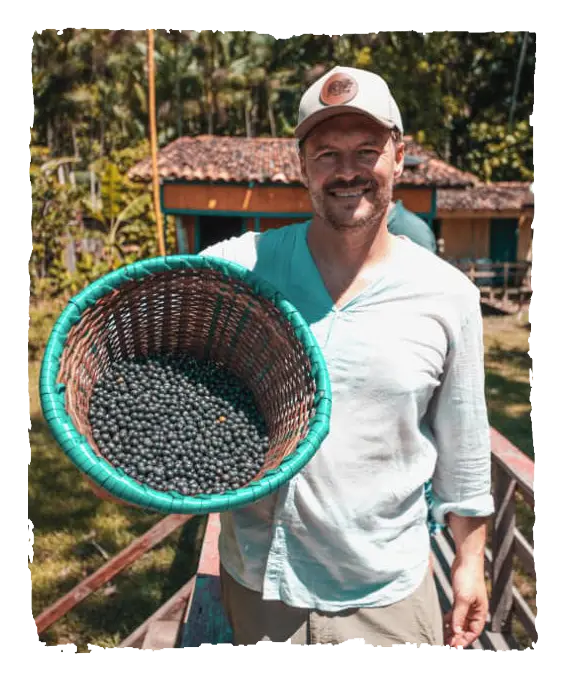 "SAMBAZON Açaí Bowls is shaping the future of healthy, fast food that resonates with today's customers who demand greater transparency about the sourcing of their food and its impact on society and the environment. At SAMBAZON, our mission of promoting sustainable development of the Amazon Rainforest goes beyond profit; it's centered on creating a win-win-win scenario that benefits people, the planet, and the end customer. Together, we can achieve this vision, one delicious Açaí bowl at a time."
- Ryan Black, CEO and Co-founder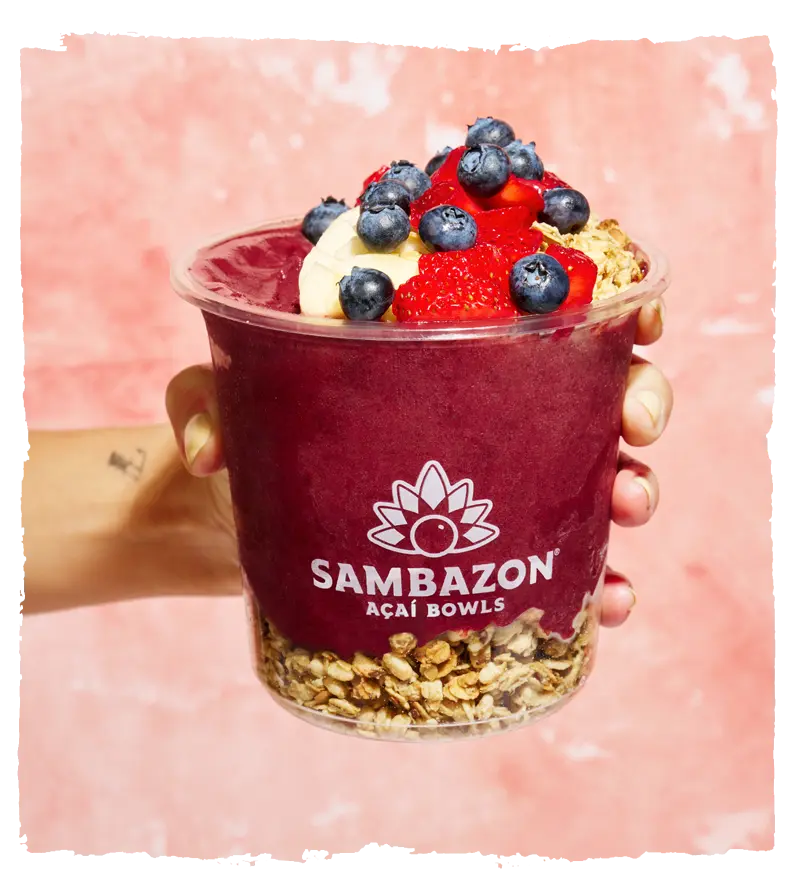 YOUR DELICIOUS POWERS AWAIT 
FRANCHISING REQUIREMENTS 
Must have 2+ years of executive experience operating a multi-unit foodservice or retail concept 
Have strong operational metrics and referrals from your current franchise system  
Must have net worth of $700,000  
Must have liquidity of $350,000 


LICENSING REQUIREMENTS 
Seasoned license partners with restaurant operating experience in large venues 
Must have 2+ years of executive foodservice experience in the business of operating a take-away, sit-down, or quick-service café business similar to our concept 
Must have net worth of $700,000 
JOIN US
SERVING SAMBAZON AÇAÍ BOWLS EVERYWHERE
Neighborhoods

College and Universities

Airports

Stadiums

More segment opportunities: Malls, Military Bases, Theme Parks, Hospitals
This website and the franchise sales information on this site do not constitute an offer to sell a franchise. The offer of a franchise can only be made through the delivery of a Franchise Disclosure Document ("FDD"). Certain states require that we register the FDD in those states. The communications on this website are not directed by us to the residents of any of those states. Moreover, we will not offer or sell franchises in those states until we have registered the franchise (or obtained an applicable exemption from registration) and delivered the FDD to the prospective franchisee in compliance with applicable law.