Coconut Açaí Ice Cream
Creamy coconut paired with Açaí creates a rich and delicious frozen dessert. By blending Açaí with coconut milk, cashews, and a bit of sweetener we create a delicious ice cream base that is the perfect summer treat.
2 hours and 40 minutes
8 servings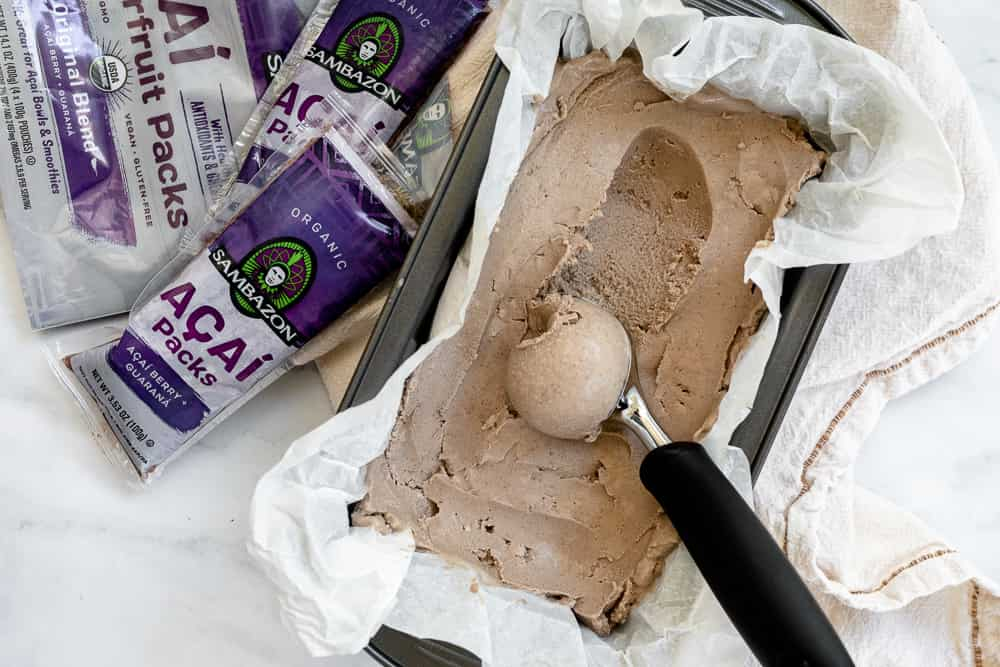 With just 5 ingredients, this ice cream recipe is insanely easy to make. All you have to do is add the ingredients to a blender, churn, and that's it. Making ice cream has never been easier…or tastier!
And not only is this ice cream delicious and creamy, but it's also dairy free. The base is simply raw cashews and full fat coconut milk. But don't worry, it tastes like the real deal. I'm already planning on making this Açaí ice cream recipe all summer long. I mean is there anything better than cooling off with a cone full of homemade ice cream. Not in my mind!
Plus, it's also contains antioxidants from the Açaí and healthy fats from the cashews.
P.S. To make this recipe I highly recommend using an ice cream maker; however you can make this recipe following a no churn method. It just may not be as creamy!
To make this ice cream you'll need the following ingredients:
Full-Fat Coconut Milk

– Full-fat coconut milk is key to getting the creamiest texture along with a delicious coconut flavor. For this recipe,

it's

important to use canned coconut milk. Since

we're

blending all ingredients together, there is no need to mix the cream and liquid from the can, simply pour everything in the blender!
Cane Sugar

– To sweeten up this ice cream, we are using a bit of cane sugar. You can also substitute a natural sweetener such as maple syrup or agave.
Cashews

– Raw cashews help create the base of this ice cream recipe. I love using a mix of coconut milk and cashews to balance out the coconut flavor.

And

this helps allow the

Açaí flavor to shine. Make sure to soak your cashews before blending to create a smooth and creamy texture.
SAMBAZON Açaí Superfruit Pack

- This ice cream recipe uses two

Açaí

packets to make sure the

Açaí flavor really pops! If

you've

never paired Açaí and coconut together before,

you'll

be obsessed.

They're

a perfect match

!
Vanilla Extract & Salt

– Adding a splash of vanilla extract and sea salt helps enhance the flavors.
Chill Time: 1-2 hours | Prep Time: 10 minutes | Churn Time: 40 minutes | Ready In: 2 hours and 40 minutes | Yield: 8 Servings
Packed with coconut and Açaí, this creamy ice cream is the perfect refreshing treat. With just 5 ingredients, you'll have homemade ice cream ready to enjoy. Pair it with a cone and a drizzle of chocolate for the ultimate dessert!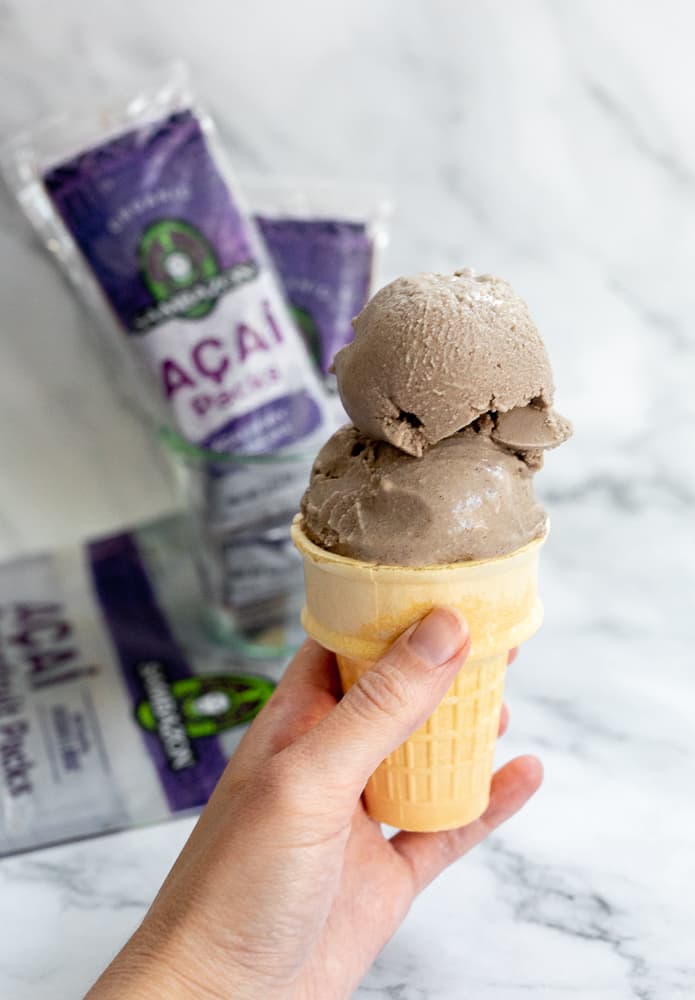 Ingredients
2

14 oz

full-fat cans of coconut milk

1 cup raw cashews, soaked

½ cup cane sugar

1 tsp vanilla

½ tsp sea salt
Preparation
Prior to making, place your ice cream bowl

from your ice cream machine

in the freezer at least 8 hours earlier

, or follow the directions for your ice cream machine (some may

require

longer freezing time periods)

.

Then, cover the cashews with water and let them soak for at least 2 hours

.

In a

high-speed

blender add the

SAMBAZON Açaí Superfruit Pack

, canned coconut milk, drained cashews, cane sugar, salt, and vanilla. Blend until smooth.

Refrigerate the

mix

ture

for 1-2 hours, until cold.

Remove your ice cream base and turn on

your ice cream machine

. Pour in the mixture and let churn for 40

minutes

, or

follow the directions on your machine

.

.

Enjoy as is (it will be closer to soft serve consistency) or place in an airtight container and place in the fridge for an

additional

hour or two to firm up.

Serve in a bowl or cone and enjoy!
Together we Açaí
Get recipes, tips, and inspiration delivered to your inbox
Comments
(0 Comments)
Please note, comments need to be approved before they are published.