Easy Six-Ingredient Nourishing Açaí Smoothie
By Alex Aldeborgh
After a trip to Hawaii last winter, I started craving açaí smoothies and smoothie bowls. I adore SAMBAZON's Pure Unsweetened frozen açaí packs for when this craving hits! This açaí smoothie recipe is one I make for myself and my husband often. It has 15 grams of plant-based protein, 16 grams of dietary fiber, and heart-healthy omega-3 fatty acids, and potent antioxidants. Because we use Pure Unsweetened frozen açaí, this smoothie has no added sugar!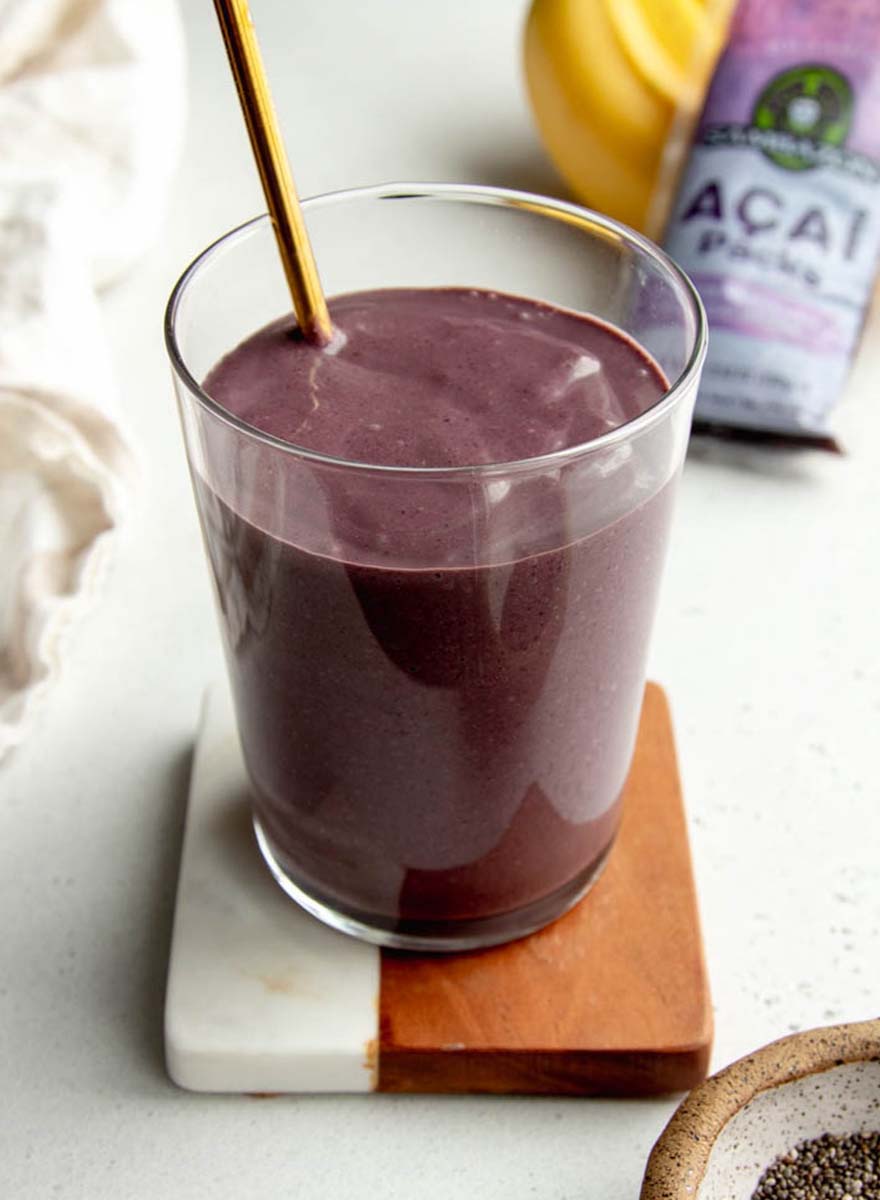 As a Registered Dietitian, my favorite recipes are those that are quick, easy, delicious, and packed with nutrition. I love a well-balanced meal that provides me with fiber-rich carbohydrates, protein, healthy fats, and antioxidants.
This especially pertains to when I'm making a smoothie! When I enjoy a smoothie at home, I like to ensure it contains a balance of dietary fiber, protein, and healthy fats. That way, the smoothie is actually filling and nourishing, so it won't leave me feeling hungry an hour after drinking it.
Açaí nutrition & health benefits
Açaí berries have many nutrition benefits! They contain dietary fiber, a small amount of protein, and heart-healthy omega-6 and omega-9 fatty acids. Açaí also provides a small amount of micronutrients, including iron, zinc, and potassium.
Açaí really shines nutritionally when it comes to the plant compounds it provides. It is loaded with antioxidants! One category of antioxidant that açaí contains is anthocyanin. This is the pigment that gives Açaí its deep purple color!
Antioxidants, including anthocyanins, help protect our cells by fighting off damaging free radicals in the body. They play a crucial role in reducing inflammation, immune support, and fighting off certain diseases.
You can check out some other cool research being done with Açaí here! (1, 2).
Ingredients in Açaí smoothie
Here is everything you will need to make this smoothie recipe:
SAMBAZON Pure Unsweetened Açaí Packs
Frozen banana
Frozen mixed berries - I used a blend of blueberries, raspberries, and blackberries.
Unsweetened soy milk - you can also use another plant-based milk. I like to use soy milk because it has a good amount of protein.
Chia seeds
Ground flax seeds
This smoothie is naturally vegan, gluten free, nut free, and dairy free. It makes one meal-size serving and can easily be doubled or tripled.
Smoothie tips
Use frozen fruit. This ensures that the smoothie is thick, creamy, and super cold. You also don't need to add ice if you use frozen fruit, which can dilute the flavor of the smoothie.
Make sure to add enough liquid. Without enough liquid (in this case, soy milk), you will have trouble blending your smoothie.
Add soft ingredients to the bottom of the blender. This gives your blender a chance to tackle soft ingredients first, which makes it easier to blend the harder, frozen ingredients.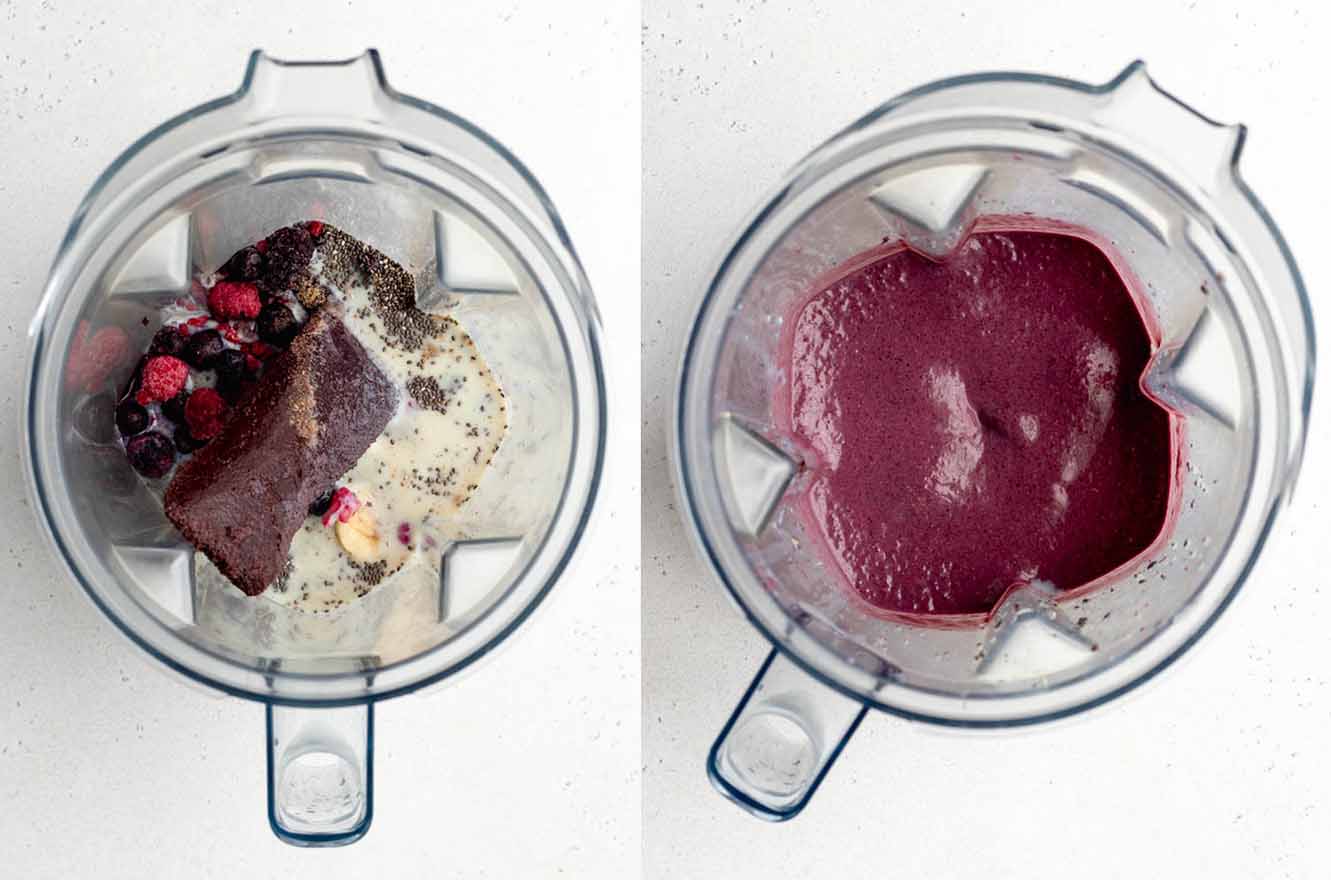 Preparation
1. Place the Açaí pack in a bowl filled with warm water. Let it sit for 1-2 minutes to soften before cutting it open.
2. Add the Açaí pack to your blender along with the banana, frozen berries, soy milk, chia seeds, and ground flax.
3. Close the blender and blend on high for 30 seconds - 1 minute until creamy and thick. 1 cup of liquid should be enough to blend the smoothie effectively, but if needed, add a splash more liquid to help it blend.
4. Pour into a glass and enjoy!
More healthy smoothie additions
If you'd like, you can add an even bigger boost of nutrition to this smoothie, without significantly affecting the taste. Here are some other healthy smoothie ingredients to try:
If you want to add more healthy fats, try: almond butter, cashews, hemp seeds, avocado
If you want to add more protein, try: plain Greek yogurt, protein powder, peanut butter
If you want to add more vitamins and minerals, try: spinach, kale, frozen cauliflower, frozen zucchini
I hope you love this nourishing Açaí smoothie as much as I do! It's easy, simple, and totally delicious.
Together we Açaí
Get recipes, tips, and inspiration delivered to your inbox.
Comments
(0 Comments)
Please note, comments need to be approved before they are published.