Fall Açaí Fig Smoothie + Bowl with Pumpkin Granola
The fall months offer us a wonderful opportunity to diversify our smoothie routine. While it's fun to make smoothies with tropical fruits, the fall months offer a whole new array of ingredients for smoothies and Açaí bowls.
Some of my favorite seasonal fall smoothie ingredients include pumpkin and fresh figs. Fresh figs are usually available in September and October. They add fiber, Vitamin A, Vitamin C, potassium, magnesium, and even small amounts of calcium and iron to recipes.
Better still, figs are delicious, juicy, and—much like Açaí—low in calories and relatively low in sugar. Figs can easily be added to smoothies for nutrient density and flavor, as you'll see in the recipe below.
Pumpkin, meanwhile, is packed with beta carotene, which is converted in the body to Vitamin A. It plays an important role in healthy vision, as well as in maintaining a healthy immune system.
Shelled pumpkin seeds—also known as pepitas—are good sources of plant-based protein, fiber, antioxidants, magnesium, and iron.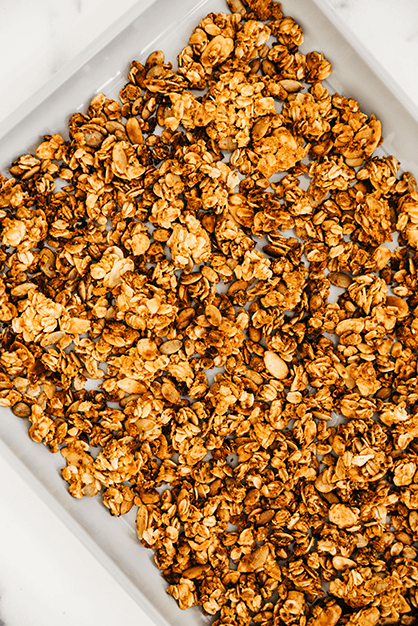 Pumpkin seeds can be toasted and used as a garnish for Açaí bowls or added to granola. They help to give my favorite, seasonal pumpkin granola some of its nutty flavor and crunch.
I can't think of a better recipe to celebrate fall than the fig smoothie that I'm sharing with you today.
It's a smoothie that features blended, fresh figs, Açaí, and banana. I like to add a hint of cinnamon, which is reminiscent of fall baking as well as an anti-inflammatory spice, for a seasonal touch.
It has a remarkably creamy texture. The Açaí, figs, and banana all contribute to this, as does another pumpkin ingredient—pumpkin seed butter! If you can't find this seed butter, almond butter is a great substitute.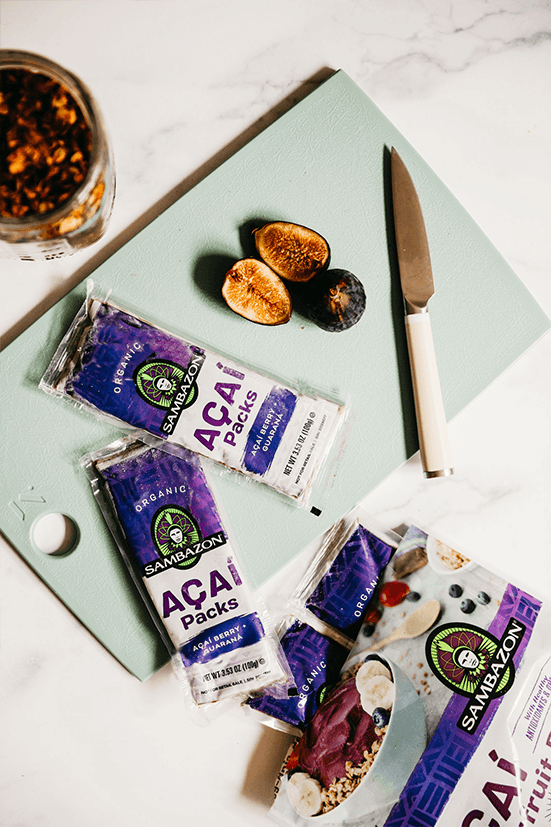 The smoothie can be prepared as suggested, or you can add less of the non-dairy milk and turn it into the thick, creamy base for an Açaí bowl.
And, if you'd like to keep things extra autumnal, you can top your smoothie bowl with a nutty pumpkin granola that's loaded with nutritious ingredients for the start of your day: rolled oats, pepitas, sliced almonds, wheat germ.
Not to mention a big pinch of pumpkin pie spice, which makes the granola smell irresistible when it emerges from the oven.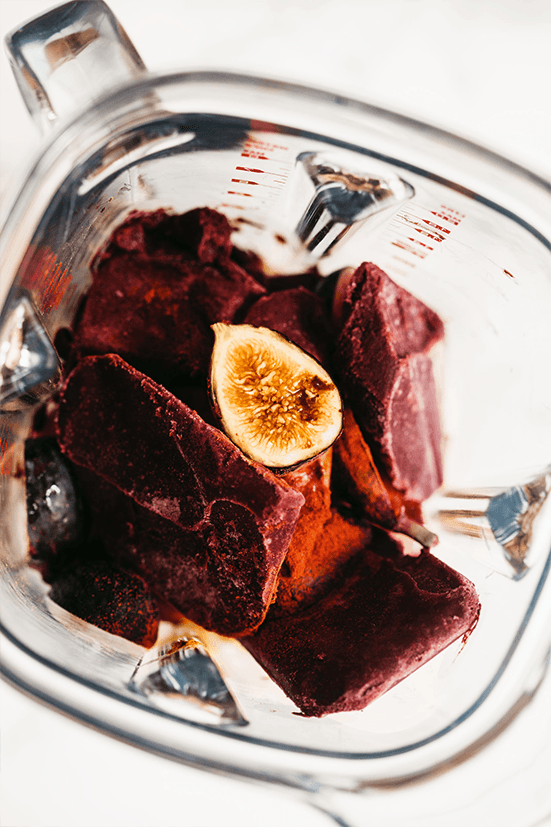 Here are the recipes you'll need to create this creamy treat. Here's to a healthy fall!
Ingredients
Pumpkin Granola
Makes 4-4 1/2 cups
3 cups (240 g) rolled oats
1/4 cup wheat germ (30g) or oat bran (25 g)
1 cup (140g) pepitas (shelled pumpkin seeds)
1 cup (about 100g) sliced or slivered almonds
2 tablespoons olive oil
1/2 cup (120g) pumpkin puree
1/2 cup (120 ml) maple syrup
1 teaspoon vanilla extract
1 teaspoon salt
1 teaspoon pumpkin pie spice (substitute 1/2 teaspoon cinnamon, 1/4 teaspoon ground cloves, and 1/2 teaspoon ground ginger)
Preparation
Preheat your oven to 325F. Mix all ingredients together in a large mixing bowl till evenly mixed.
Transfer the granola to an 18" by 13" baking sheet in an even layer. Transfer the sheet to the oven. Bake for 20 minutes. Use a spoon to break the big layer of granola into clusters. Continue baking for another 15-20 minutes, or until the granola is all golden brown.
Allow the granola to cool on the sheet completely before transferring it to an airtight container. Store at room temperature for up to 1 week.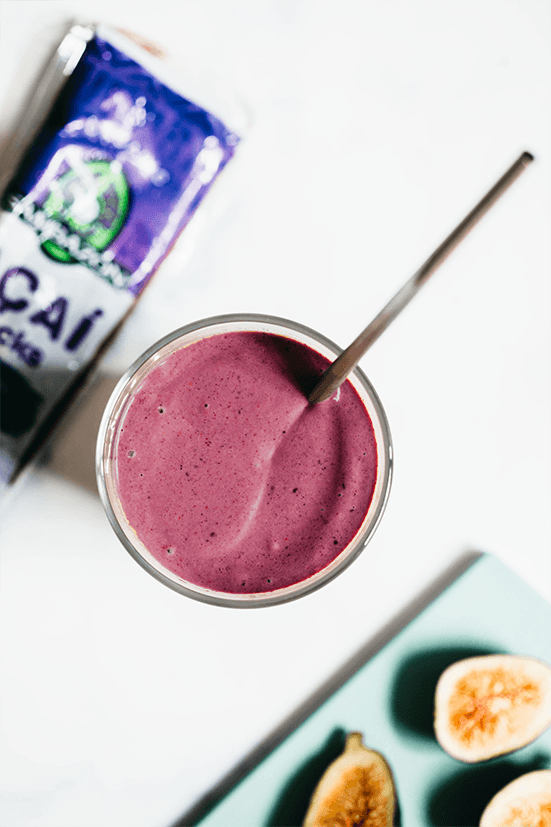 Makes 4 servings
4 Sambazon Original Blend or Pure Unsweetened Açaí Packs
3 medium-sized or large peeled, chopped, and frozen bananas
4 fresh black mission or calimyrna figs, halved
3/4 teaspoon ground cinnamon
2 tablespoons pumpkin seed butter or almond butter
1 1/2-2 cups unsweetened, non-dairy milk (adjust amount to achieve a smoothie consistency you like)
Place all ingredients into a high-speed blender. Blend till the mixture is creamy and smooth; 1 1/2 cups non-dairy milk will result in a thicker smoothie, while 2 cups will be more pourable. Serve.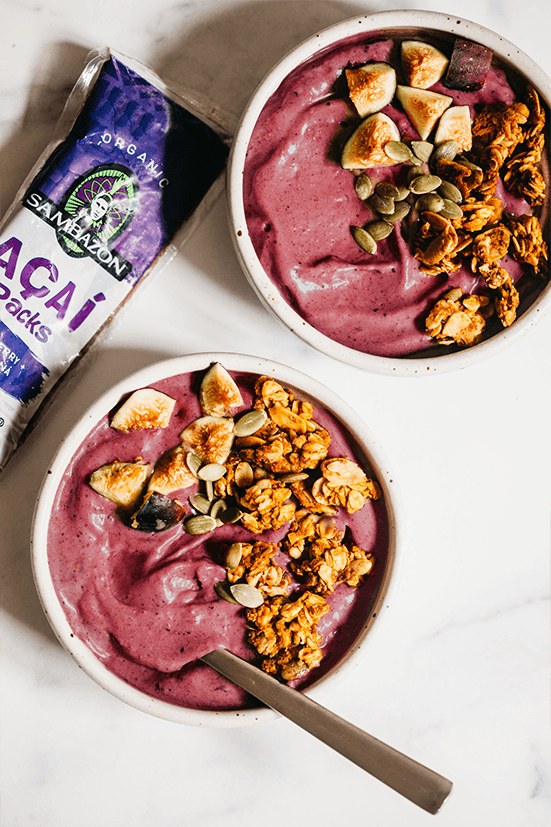 Açaí Fig Smoothie bowl with Pumpkin Granola
Makes 4 servings
1 recipe Açaí fig smoothie, above, prepared with only 1 cup non-dairy milk
2 cups pumpkin granola, above
4 chopped black mission or calimyrna figs
1/4 cup pepitas (shelled pumpkin seeds)
Prepare the Açaí fig smoothie and divide it into serving bowls. Gently flatten the top so that it's an even surface for adding toppings. Top each bowl with 1/2 cup of the granola, 1 chopped fig, and a tablespoon of pepitas. Enjoy!
Together we Açaí
Get recipes, tips, and inspiration delivered to your inbox
Comments
(0 Comments)
Please note, comments need to be approved before they are published.