Gluten-Free Vegan Acai Berry Pie Recipe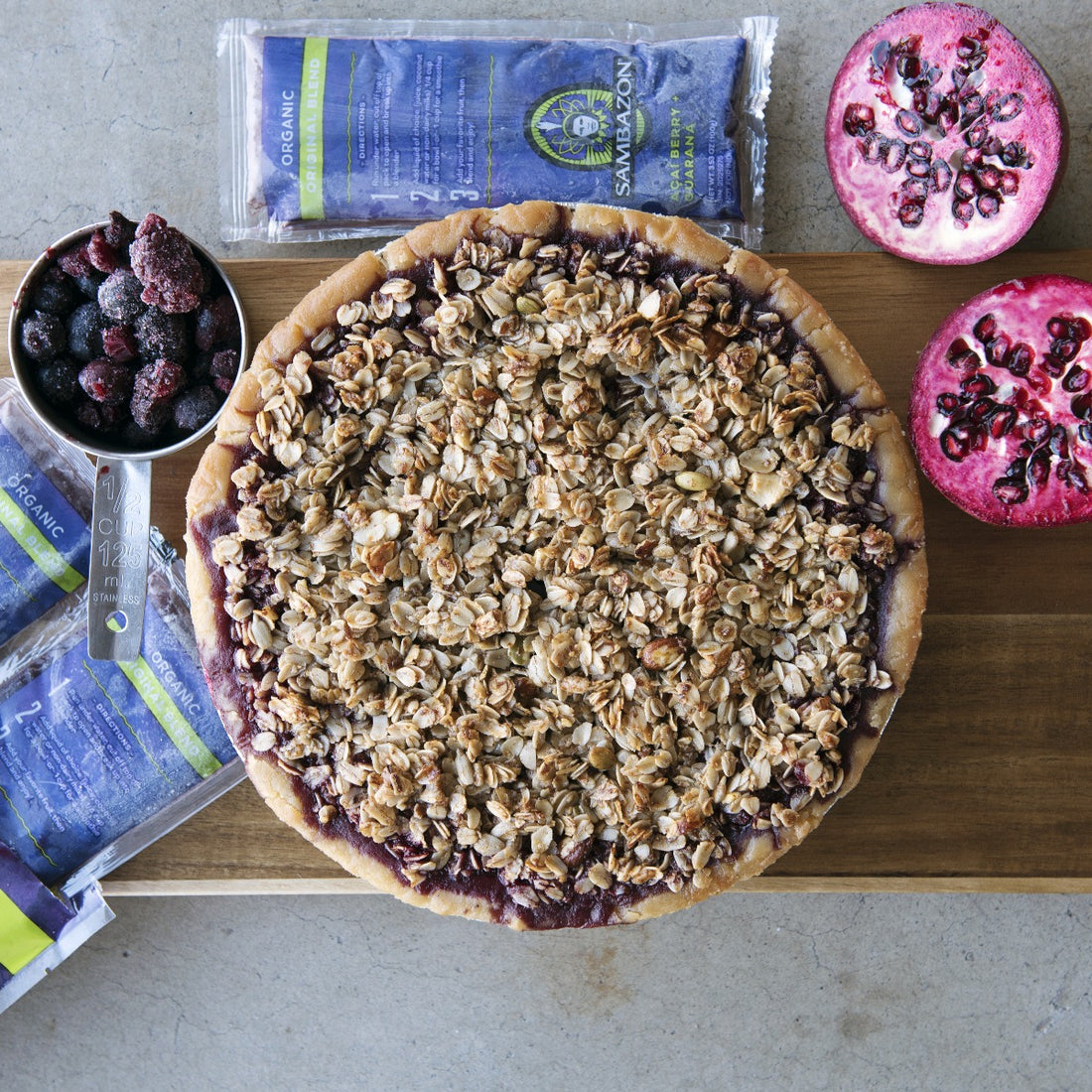 Ingredients
1 Gluten free pie crust
2 Sambazon Superfruit Packs (Original, Pure or Protein)
3 c Frozen Mixed Berries
1-2 Tbsp Coconut Oil
Optional: Ground ginger
Dash of cinnamon
Dash of vanilla
Crumble Topping: 1 - 2 c Gluten Free Oats
1 c Brown Sugar OR 1/2 c Agave
1/4 - 1/2 c Coconut Oil melted
Dash of Sea Salt
Dash Cinnamon
Optional: small handful chopped nuts and seeds
Preparation
Preheat oven to 350 F.

To Make Filling: In a blender, combine Sambazon Superfruit Packs (melted), 1 c frozen mixed berries and optional ginger or cinnamon.

Blend until smooth and combined. In a bowl, add the rest of the berries and then add your blended mixture.

Stir to combine.

Pour mixture into your pie crust, evenly smooth out the mixture.

Over the top, evenly distribute small dollops of coconut oil.

Top with crumble mixture.

To Make Crumble: In a bowl, combine all ingredients.

Make sure all oats are covered. Scoop atop pie filling, gently pat down.

Bake 350 for 30 minutes, or until golden brown.

Allow to cool before serving. Try adding a scoop of Açai Sorbet and enjoy your acai pie.
Together we Açaí
Get recipes, tips, and inspiration delivered to your inbox
Comments
(0 Comments)
Please note, comments need to be approved before they are published.