Hot Chocolate Flavored Açaí + Oats Bowl Recipe
Looking for a new way to use your Sambazon Açaí Pure Unsweetened Superfruit Packs this winter? Try this Hot Chocolate Açaí + Oats Bowl by Carly of Fit Living Eats! It's a homey, warm rendition on the classic Açaí bowl we all know and love with a fun, vegan hot chocolate twist. All you'll need in addition to your typical ingredients are cooking oats of your choice, cacao powder, and some sweeteners like maple syrup and vanilla extract. Are you ready? Let's go!
Ready In: 15 Minutes
Yield: 1 Serving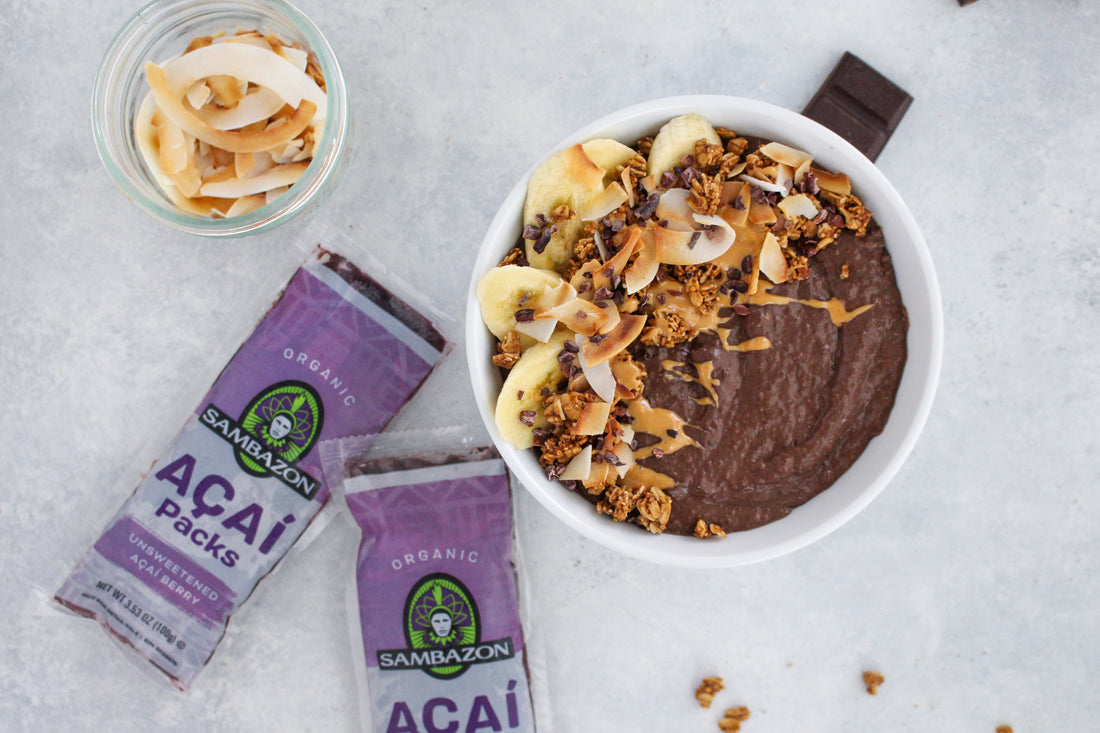 In order to stay comfy and cozy, we're going to start by heating up all ingredients but banana over a medium saucepan. This will allow the multitude of sweet and savory flavors to melt together with the cooking oats. Make sure the oats get to a nice, thick consistency before transferring it over to a blender to mix in the banana, because once the banana is mixed in...you're done! Simply garnish with toppings of choice, snap a picture, and enjoy.
Preparation
1. Combine all of the ingredients except for the banana in a medium saucepan over medium heat. Bring to a simmer and cook for 5 minutes or until oats are soft and thick.
2. Transfer to a blender with the banana and blend until smooth.
3. Garnish with toppings of choice.
And there you have it! A delicious combination of Açaí, oats, and cacao powder for a unique homemade hot chocolate inspired recipe. We can't wait to see you try it yourself! Make sure to share photos (or better yet, videos!), tag @sambazon and @fitlivingeats, and let us know what you think.
Stay happy, healthy, and keep enjoying the delicious powers of Açaí this winter season!
Together we Açaí
Get recipes, tips, and inspiration delivered to your inbox
Comments
(0 Comments)
Please note, comments need to be approved before they are published.