SAMBAZON Açaí French Toast with Sumac Apple Açai Sauce
Earthy and tart SAMBAZON Original Blend Açai pairs perfectly with the flavors of caramelized apples and sumac to make for a healthy, nutrient packed and fun French toast recipe you'll love!
15 minutes prep, 25 minutes cooking
4 servings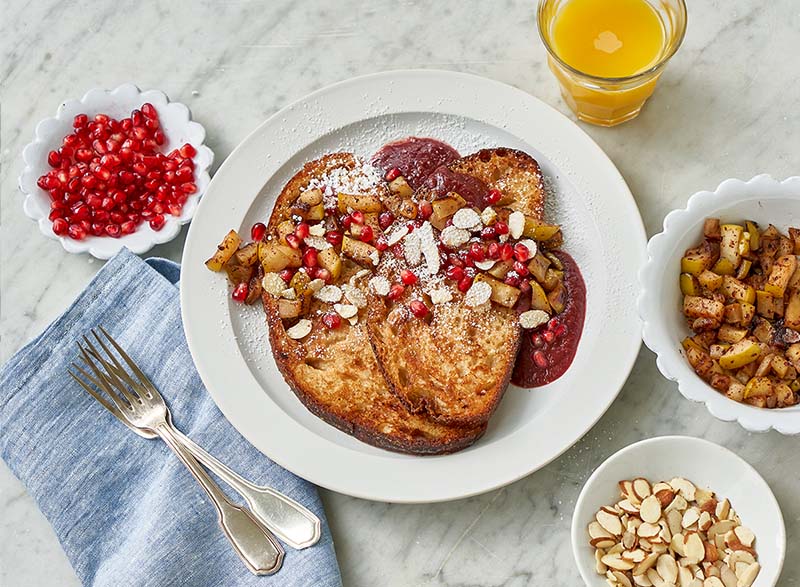 Load these French toast slices up with almost any toppings you like! We think toasted coconut, crispy granola or cocoa nibs are all other great options!
The sauce for this recipe also makes a delicious starter for a smoothie. Feel free to make a double batch of the sauce and reserve it in the fridge for up to 3 days to blend with frozen bananas or fruits of your choosing for a quick breakfast or snack!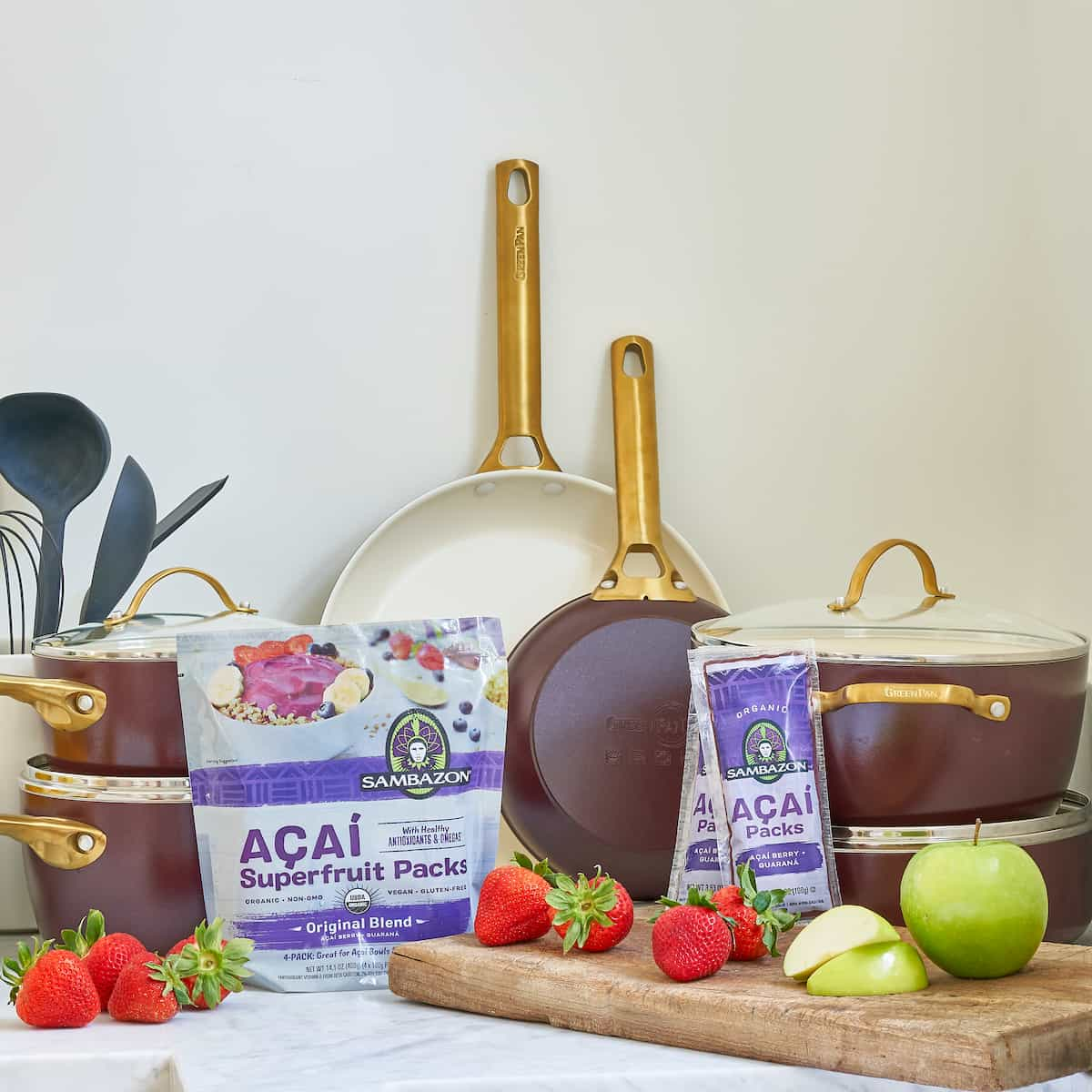 Ingredients
For the sumac apple Açaí sauce:
1 tablespoon vegan butter

2 medium sized tart apples (such as granny smith), cored and cut into 1/2" dice

2 teaspoons sumac

1/4 teaspoon sea salt

1/4 cup maple syrup

1/2 teaspoon lemon juice

1 SAMBAZON Original Blend Açai Superfruit Pack
1/4 cup rice flour

1 cup unsweetened almond milk

2 tablespoons unsweetened applesauce

1 tablespoon coconut sugar

1 teaspoon ground cinnamon

1 teaspoon vanilla extract

1/4 teaspoon sea salt

8 thick slices French bread (or other sturdy but soft bread of your choosing)

2 tablespoons vegan butter, more as needed

1/2 cup pomegranate seeds, for serving

1/4 cup sliced almonds, toasted, for serving

Confectioners' sugar, for serving
Preparation
1. Place a large GreenPan frypan on the stovetop over medium high heat and melt 1 tablespoon of vegan butter. Add in the apples and cook, tossing or stirring occasionally, for 4 to 5 minutes or until beginning to soften and lightly brown all over. Stir in the sumac and salt and cook another minute or two more until the sumac is fragrant. Transfer half of the apples to the carafe of a blender and reserve the other half in a small bowl for topping the finished French toast later.
2. Add the maple syrup, lemon juice and SAMBAZON Original Blend Açai Superfruit Pack to the blender with the apples and puree on high speed until very smooth. If needed, add in a bit of water to reach a thick but pourable consistency. Taste and adjust as desired with maple syrup, salt and lemon juice and set aside with the reserved apples.
3. In a medium mixing bowl whisk to combine the rice flour, almond milk, apple sauce, coconut sugar, cinnamon, vanilla and salt until very smooth with no lumps of rice flour remaining. (If your bowl is too narrow to dip the bread well for the next step, transfer the batter to a shallow baking dish.)
4. Lightly clean the same frypan used for the apples and place it back on the stovetop over medium heat. Working with as many pieces of bread as will fit in your frypan at once, dip them into the batter and allow them to soak just long enough for them to absorb some of the liquid but without being soggy, about 10 seconds per side. Melt a few teaspoons of vegan butter in the frypan and place in the bread. Cook for 2 to 3 minutes or until nicely browned, then flip and repeat on the other side. Transfer the cooked French toast to a large platter or serving plates and repeat until all the slices of bread are cooked. (If desired, the finished French toast can be warmed back in the frypan on medium low heat, or in a 250 F oven.)
5. To serve, top the warm French toast with a bit more vegan butter if desired, then drizzle with the sauce. Garnish with some of the reserved sauteed apples along with pomegranate seeds, almonds and a light dusting of confectioners' sugar.
Together we Açaí
Get recipes, tips, and inspiration delivered to your inbox.
Comments
(0 Comments)
Please note, comments need to be approved before they are published.