Spring Refresh: Strawberry Coconut Açaí Bowls
The shift from winter to spring feels exciting on many fronts. There are long days and warmer weather to look forward to, the beautiful sight of budding flowers and greenery on trees, and a feeling of hope and renewal in the air.
Springtime also provides us with a powerful opportunity to nourish our bodies through seasonal transition. For many, the long winter months are characterized by hearty, warming meals. As the weather becomes warmer, it's natural for our appetites to seek out refreshing, yet still nutritious and satisfying foods, like Açaí.
On the other hand, Açaí is a supportive source of nutrition, including dietary fiber, monounsaturated fatty acids, protein, and vitamins. [1]
The spring months also give us an opportunity to embrace simplicity. "Spring cleaning" doesn't only apply to closets or home spaces; spring can be a wonderful time to declutter and simplify.
It's natural for people to seek out heavier and more elaborate foods in the winter, as they brace themselves against the cold and prepare for holiday celebrations.
When springtime arrives, minimalist preparation techniques and simple, colorful recipes can take center stage. As more produce becomes seasonally available and abundant, it's fun to allow fresh fruits and vegetables to shine on our plates (or in our bowls).
The following Açaí bowl recipe is a favorite of mine for the entire spring season. It combines two of my favorite ingredients: SAMBAZON Açaí and strawberries. The latter come into season in the springtime in many parts of the United States.
In keeping with the fresh, light energy of spring, this açaí bowl features simple ingredients: Açaí, frozen strawberries and banana, ground flax, and plant milk. The toppings are simple, too: sliced fresh strawberries and crisp coconut flakes, which complement the strawberry flavor beautifully.
In addition to all of the great nutrition supplied by Açaí, this bowl features additional dietary fiber from the flax meal and both potassium and magnesium from banana. [2] Strawberries, meanwhile, are an excellent source of vitamin C. [3]
In all, this bowl is a satisfying, ultra-refreshing, and ultra-wholesome way to welcome the season of color and light!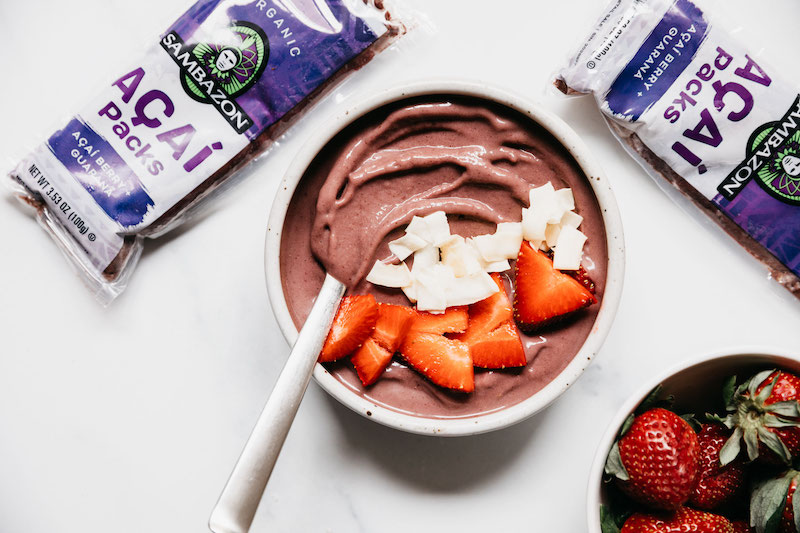 Ingredients
2 cups frozen, peeled banana, sliced crosswise into pieces
1 1/2 cups frozen, whole strawberries
2 SAMBAZON Original Blend Frozen Açaí Packets
3/4 cup unsweetened plant milk (more as needed)
½ cup thinly sliced strawberries
⅓ cup toasted coconut flakes
Preparation
1. Remove the frozen Açaí from its packets. Place the banana, strawberries, Açaí, flax meal, and plant milk in a powerful blender. Blend until smooth, adding plant milk by the tablespoon as needed. Add only as much milk as is needed to blend the mixture till it has a smooth swirl.
2. Divide the blended Açaí bowl base into two bowls. Top each with half of the sliced strawberries and half of the toasted coconut flakes. Enjoy.
1. de Carvalho TS, Brasil A, Leão LKR, et al. Açaí (Euterpe oleracea) pulp-enriched diet induces anxiolytic-like effects and improves memory retention. Food Nutr Res. 2022;66:10.29219/fnr.v66.8851. Published 2022 Nov 2. doi:10.29219/fnr.v66.8851
2. Parikh M, Netticadan T, Pierce GN. Flaxseed: its bioactive components and their cardiovascular benefits. Am J Physiol Heart Circ Physiol. 2018;314(2):H146-H159. doi:10.1152/ajpheart.00400.2017
3. Slavin JL, Lloyd B. Health benefits of fruits and vegetables. Adv Nutr. 2012;3(4):506-516. Published 2012 Jul 1. doi:10.3945/an.112.002154
Together we Açaí
Get recipes, tips, and inspiration delivered to your inbox.
Comments
(0 Comments)
Please note, comments need to be approved before they are published.