Thanksgiving Açaí Sweet Potato Smoothie
I think it's safe to say that this is the best way to make use of any Thanksgiving leftovers! The Japanese sweet potato added the perfect creaminess and sweet taste to this Thanksgiving smoothie. I love how it's loaded with nutrients and still tastes amazing. Trust me, you'll want to try this!



Thanksgiving is full of family and friends; and if we're lucky, some tasty leftovers! I took my extra Japanese sweet potatoes and put them to good use in this Thanksgiving Açaí smoothie! Get the purple ones to up the anthocyanins!!

Here's what you'll need:

For an Açaí smoothie, we'll need some açaí! I used 2 SAMBAZON Unsweetened Açaí Packets. Açaí is such a delicious food! Aside from being used to make tasty bowls & smoothies, Açaí contains antioxidants & omegas that can support brain & heart health.

Japanese sweet potato is a staple for my family for every Thanksgiving dinner! Their creamy texture and sweet taste make it the perfect addition to the Thanksgiving meal. They're so easy to prepare and need minimal spices. I like to bake them for the perfect texture.

Would a smoothie be incomplete without a banana? Bananas don't only add a great texture, make the smoothie thicker, and add the perfect sweetness, they are also filled with so many essential nutrients! Bananas are rich in potassium which is great for heart health. Their vitamins A and C are good for your skin. Ideally a frozen banana works best and gives the best texture, but a fresh one is great too and that's what I used.

Usually, in smoothies, I add peanut butter or almond butter, but since this is a Thanksgiving smoothie, I decided to go with the traditional foods and added 1/3 cup of pecans to this smoothie! This not only adds a nutty and delicious texture, but it also has a lot of health benefits! Pecans are known for being high in healthy fats, making it a great way to stay fuller for longer! If you want to be a little extra, you can definitely blend some pecans up in a food processor until they become pecan butter. Add the pecans in and pulse the food processor until you see that creamy texture form. This is perfect to add to the smoothie or even as a topping!

Adding a natural sweetener into smoothies is my favorite part! I feel it blends the flavors together so well. I chose to add 1 tbsp of honey, but you can use maple syrup, date syrup, or any liquid sweetener that your heart desires.

Last but not least, add some ice! I love my smoothies extra cold and icey so I added a whole cup of ice. Being that the Sambazon Açaí packets are frozen they definitely contribute to making that ideal smoothie texture. Make sure to blend in a blender that can handle ice and is strong enough to blend into that creamy consistency! If your blender needs a little help, try adding the liquid first and then blending in ingredients one at a time. Oat milk and almond milk are my go-to. Start with 2 tbsp (like I did) and add a little bit more if needed. The less liquid added, the thicker the smoothie will be!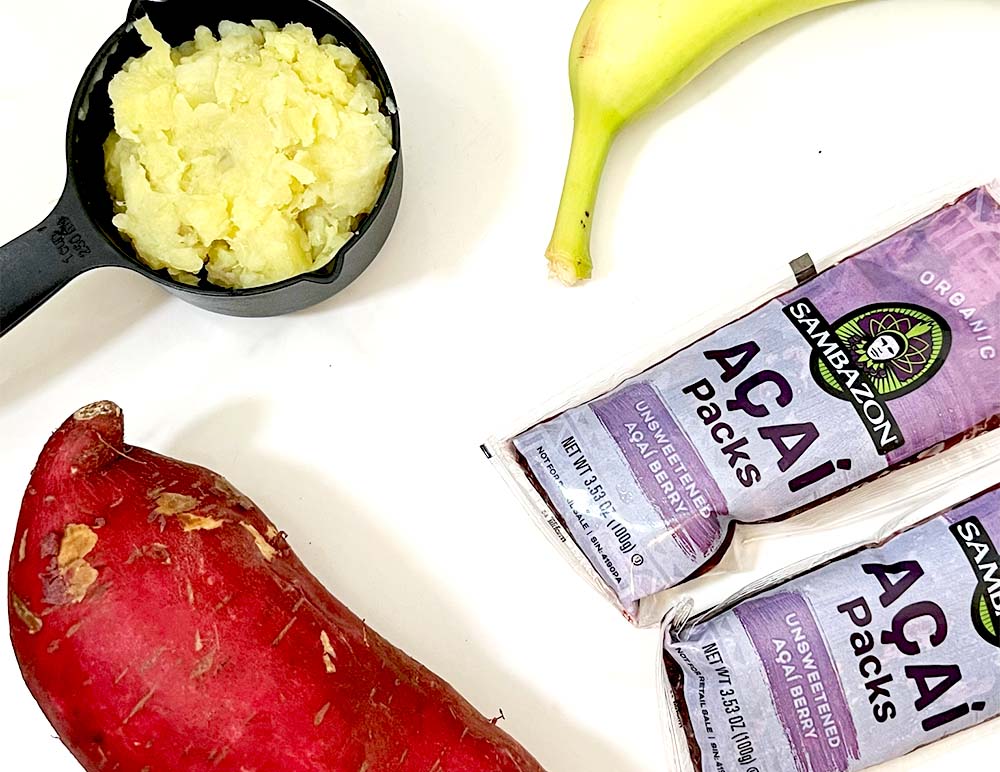 Ingredients
1 cup boiled/cooked Japanese sweet potato

1 banana

1/3 cup pecans

2 tbsp plant milk to have an easier time blending (add more if needed)

1 tbsp honey or maple syrup

Ice




Optional toppings:

Pecan butter

Non-dairy Whipped cream

White chocolate shell - I added a whole chocolate shell to this smoothie. Melt white chocolate chips and spread it over the top, let it freeze for 5 min to harden
Preparation
Bake the Japanese sweet potato. I baked it at 400f for 45 min. Remove the peel and measure one cup.

Combine all the ingredients (2 SAMBAZON Unsweetened Açaí Packets, Japanese sweet potato, pecans, banana, honey, ice, plant milk) in a high-speed blender.

Blend until smooth and add more plant-based milk if necessary or scrape down the sides in between blends to have the perfect thick texture.

Pour into a glass cup and (optional) top it with melted white chocolate.
Enjoy! Happy Thanksgiving!
Together we Açaí
Get recipes, tips, and inspiration delivered to your inbox
Comments
(0 Comments)
Please note, comments need to be approved before they are published.