WHY BUY OUR BOWLS
Fast. Affordable. Sustainable. And now grab and go! Our plant-fiber, recyclable bowls are a convenient way to enjoy a delicious Açai or Smoothie bowl—without extra time or a blender.
WHY ENJOY SAMBAZON™ AÇAI
Wild harvested by hand, Açaí is high in antioxidants and healthy omegas 3, 6, and 9, while free of naturally occurring sugars. But not all Açaí is created equal. SAMBAZON (TM) is fair trade, organically-grown, ethically sourced, nutritious—and extra delicious.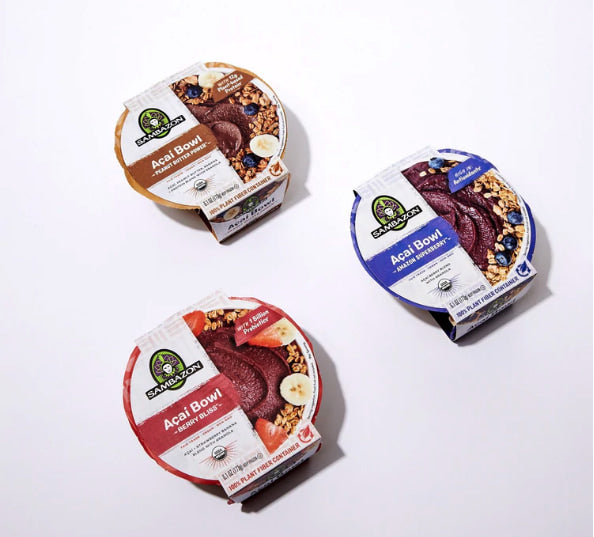 No Blend, Organic, Vegan and Delicious
No blender? No time? No problem! Our delicious, organic, frozen Açaí & Smoothie bowls are a nutritious solution for a high-quality, hassle free meal at home, the office, or on the go. Thaw in minutes, top with the included topping, and your choice of favorite additional toppings: fresh fruit, coconut flakes, or chia seeds, and enjoy! Whether you crave a berry bowl or an exotic creamy dragon fruit bowl, our nutrient-rich, vegan, no blend bowls come in a wide variety of flavors tailored to your needs—and tastebuds.
FAQ
Where Can I Buy Premade Acai Bowls?

You can find premade frozen acai bowls at various locations nationwide.Use our store locator to find a retailer near you. These retailers offer convenient options for grabbing a delicious and ready-to-eat Acai bowl on the go, as well as other tasty acai products. So, whether you're looking for a quick and nutritious breakfast or a refreshing snack, check out these stores to satisfy your Acai bowl cravings.
What is In an Acai Bowl?

An Acai bowl typically consists of a base made from frozen Acai berries blended with a liquid such as almond milk or coconut water. It is then topped with ingredients such as fresh fruits like bananas, berries, and mangoes, granola, nuts, seeds, and sometimes drizzled with honey or nut butter for added flavor. The combination of these ingredients creates a refreshing and nutritious bowl that contains antioxidants, vitamins, and fiber. Make an acai bowlor try one of our premade acai bowls for a delicious and satisfying breakfast, lunch, or snack option.
What's the Purple Stuff in Acai Bowls?

The purple stuff in Acai bowls is the vibrant and nutritious Acai berry puree. Made from the delicious Acai berries found in the Amazon rainforest, this purple goodness contains antioxidants, vitamins, and minerals. It gives the bowl its signature color and adds a delightful fruity flavor that complements many toppings and other ingredients. So, next time you indulge in an Acai bowl, remember that the purple stuff is the key to a delicious and balanced bowl!
How Many Calories are in an Acai Bowl?

The number of calories in an Acai bowl can vary depending on the specific ingredients and portion sizes used. Our premade acai bowl can range from 190 to 250 calories per serving. Remember to consider portion sizes and the additional ingredients you include when estimating the calorie content of your Acai bowl creation.
Can an Acai Bowl Replace a Meal?

While an Acai bowl can be a nutritious and filling option, it's important to consider the essential nutrients and components of a complete meal. For a well-balanced meal, it's important to include other food groups such as protein, healthy fats, and carbohydrates. If you're looking to replace a meal, consider adding ingredients like nut butter, coconut or cashew milk yogurt or granola to your acai bowl recipes to enhance the nutritional profile and make it more satisfying.
Do You Eat Acai Bowls Frozen?

While traditional Acai bowls are made using frozen Acai puree, at SAMBAZON, we also offer convenient ready-to-eat Acai bowls that provide a quick and hassle-free option. Our frozen acai bowls come in a variety of delicious flavors and can be enjoyed after thawing. Simply thaw the bowl for 15 minutes at room temperature or microwave it for 15 seconds for a quick and easy treat.
Is it OK to Eat Acai Bowls Every Day?

If you choose to have an Acai bowl every day, it's recommended to be mindful of portion sizes, select nutritious toppings, and consider the overall balance of your daily meals. Variety is key for a well-rounded diet, so incorporating other nutrient-dense foods alongside Acai bowls can help ensure you're getting a diverse range of nutrients. As always, it's best to consult with a healthcare professional or registered dietitian for personalized advice based on your individual dietary needs and goals.
Why Do Acai Bowls Taste So Good?

Acai bowls are renowned for theirdeliciously sweet and slightly tangy flavor. Additionally, the combination of the Acai puree with various toppings such as fresh fruits, granola, and nuts creates a delightful balance of textures and flavors. Our ready to eat acai bowls are a great option to try a range of fruity flavors, from classic Superberry, Berry Bliss, Peanut Butter, Mango Passionfruit, and even Dragon Fruit.
Can I Make My Own Acai Bowls at Home?

Yes, you can definitely make your own Acai bowls at home. We recommend using Frozen Acai Packets for an authentic taste, and if you're curious where to buy Acai, you can find these Frozen Acai Packets on our Superfruit Packs page. However, if convenience is a priority for you, we offer premade acai bowls that are ready to enjoy after a quick thaw. These pre-made bowls save you time and effort while still delivering the same delicious flavors and nourishing goodness. So, whether you prefer DIY or opt for the convenience of pre-made options, SAMBAZON has you covered for acai bowl indulgence.
Where to Buy Our Ready-to-Eat Açaí Bowls
There's no need to trek to the Amazon. Our Açaí products can be found in any major retailer, including Costco, Whole Foods Market, Target, Safeway, Publix, Kroger, and Albertsons. Save time (and money!) by enjoying our Ready to Eat Açaí Bowls at home.
Find a Store near you