Alex Caspero's Açaí Yogurt Bowl
This healthy, protein packed creamy açaí yogurt bowl is perfect for the entire family.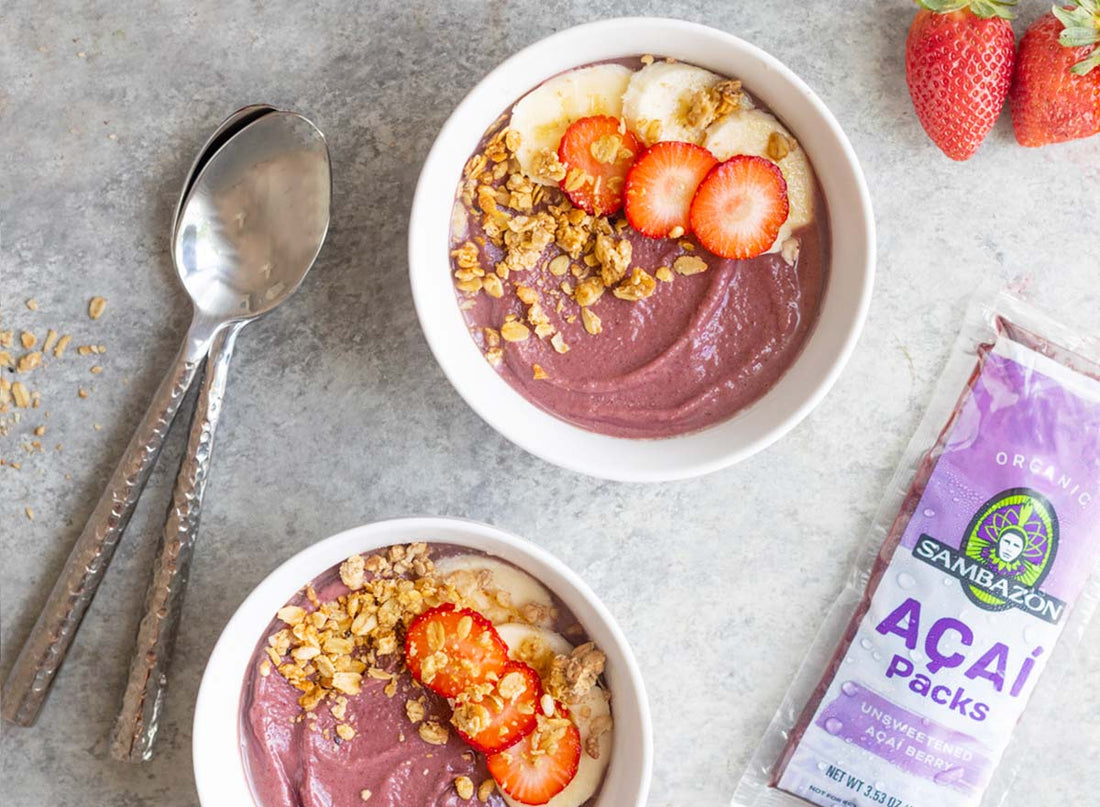 As a pediatric dietitian and mom to two preschoolers, I'm constantly on a mission to offer more plant-based meals. Especially considering that most kids (1 in 10 according to the latest CDC numbers) don't consume enough fruits and vegetables per day. Therefore, I've made it my professional mission to help educate parents on the benefits of a plant-rich diet, along with creative ways to enjoy such foods. After all, healthy only goes so far if your kiddos won't touch it.
This creamy açaí yogurt bowl is a filling meal or snack choice. A blend of unsweetened açaí berry packs with protein-rich Greek yogurt and an additional fruit serving of banana and strawberries. Each 210-calorie bowl contains 9g of protein and 5g of fiber, along with 20% of the daily recommended amount of calcium. The açaí base itself is a rich source of anthocyanins, an antioxidant which gives açaí berries their deep purple color.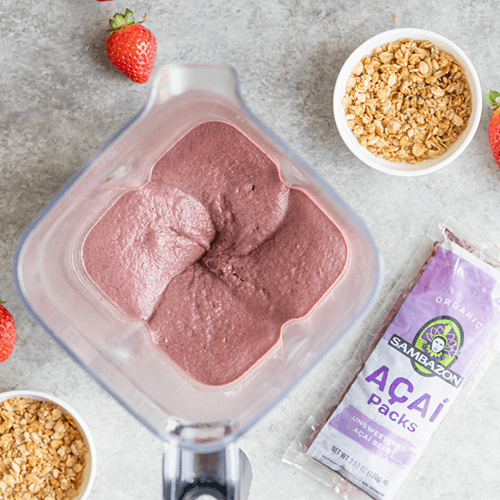 Anthocyanins are found in purple-hued plant foods and have a wide range of health benefits, including anti-inflammatory, antidiabetic, antimicrobial and anticancer properties.1 The latest 2020-2025 Dietary Guidelines for Americans shows that while most kids aged 5-18 don't meet their recommended fruit servings each day, very few consume fruits in the blue and purple category. Encouraging consumption from this specific fruit color helps to boost antioxidant intake.
In fact, açaí berries contain more antioxidants than both cranberries and blueberries. Using the Oxygen Radical Absorbance Capacity (ORAC), a way to measure the antioxidant content of foods, 100 g of açaí puree has an ORAC score of 15,405 compared to a score of 4,669 for the same amount of blueberries. In addition to the benefits listed above, anthocyanin rich foods have been shown to be effective in improving memory and cognition. 2
Getting all those nutrition benefits into your kiddos couldn't be easier with these simple açaí bowls. With only a handful of ingredients, these bowls are a fun, creamy treat. The addition of Greek yogurt bumps up the protein and calcium, but a dairy-free yogurt also works for a vegan version of this bowl. Fortified soy milk is my typical milk of choice, but any unsweetened milk will work in this recipe.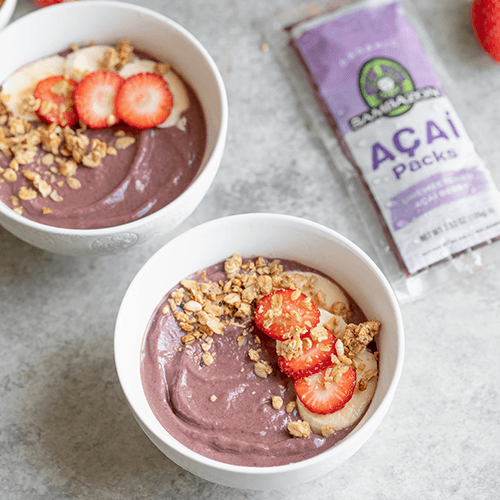 I prefer to use the unsweetened frozen açaí packs, which don't contain any added sugar and are made with pure açai berry. Particularly since I try to limit added sugar where possible. It's one of the reasons I love the SAMBAZON brand so much; they offer unsweetened açaí of the highest quality: fair-trade, organically grown and ethically sourced. There are no compromises when choosing this açaí for my family; it's both delicious and nutritious.
I hope you enjoy this creamy yogurt açaí bowl as much as we do. Top it however you'd like! We prefer to pile on more fresh fruit, hemp seeds and a sprinkle of granola. If you like it sweeter, consider a drizzle of honey or maple syrup.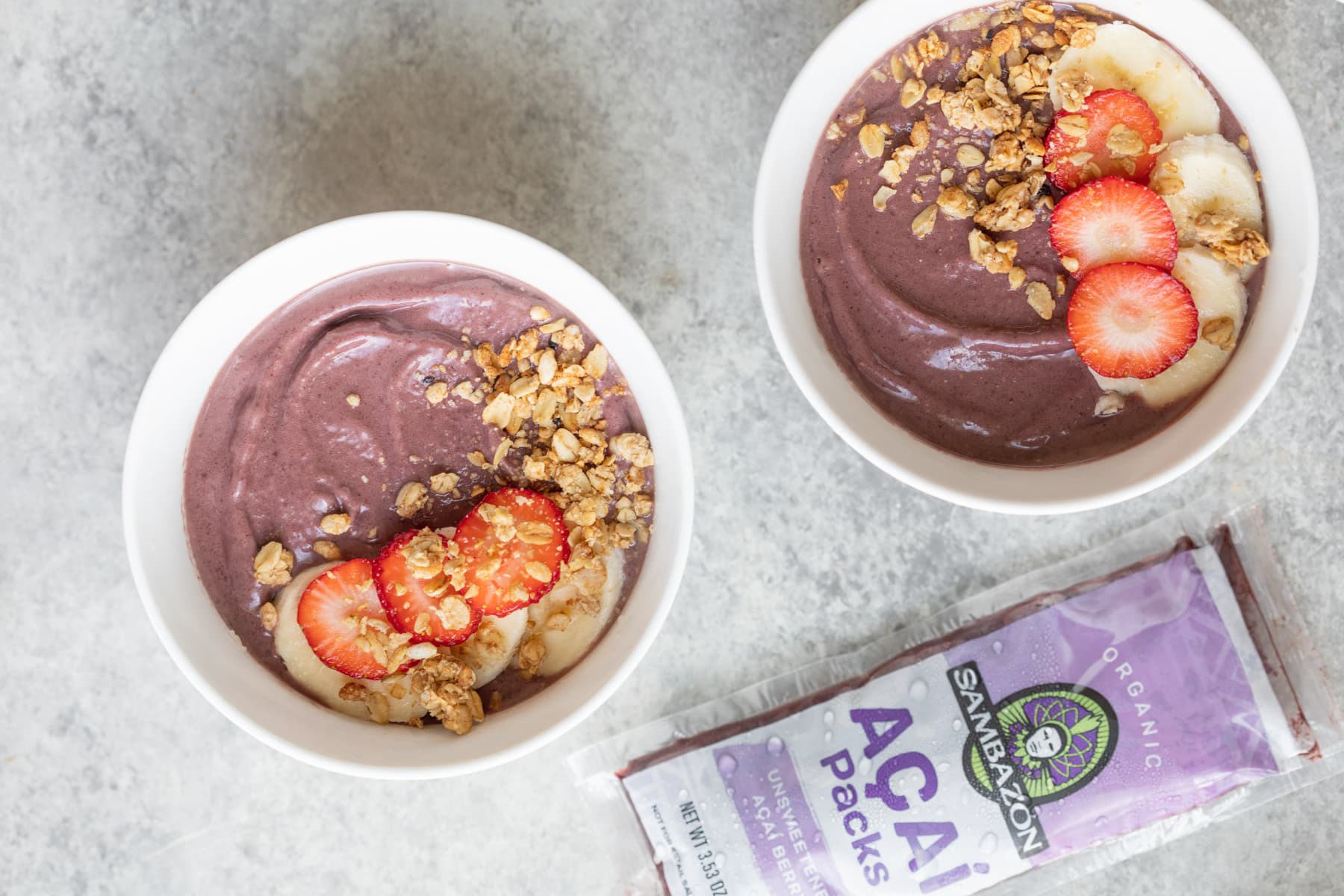 Ingredients
2 packets Sambazon unsweetened açaí berry
½ cup plain Greek yogurt*
1 frozen banana, sliced into chunks
½ cup frozen strawberries
½ cup unsweetened, fortified milk of choice
Toppings of choice (granola, fresh fruit, honey)
Preparation
Place all of the ingredients (except for the toppings) in the base of a blender. Puree until creamy and smooth, stopping to scrape down the sides as needed.
Scoop into two bowls and top as desired. Enjoy immediately.
*For a vegan version, use a dairy-free, plain yogurt and milk.
1 Khoo HE, Azlan A, Tang ST, Lim SM. Anthocyanidins and anthocyanins: colored pigments as food, pharmaceutical ingredients, and the potential health benefits. Food Nutr Res. 2017;61(1):1361779. Published 2017 Aug 13.
2 Kent K, Charlton KE, Netzel M, Fanning K. Food-based anthocyanin intake and cognitive outcomes in human intervention trials: a systematic review. J Hum Nutr Diet. 2017;30(3):260-274.
Together we Açaí
Get recipes, tips, and inspiration delivered to your inbox.
Comments
(0 Comments)
Please note, comments need to be approved before they are published.