How to Make a Fourth of July Cake: American Flag Cake with Açaí Sorbet Recipe
Calling all spoons! Savor some sumptuous sorbet this holiday weekend to celebrate the Fourth of July. Mix together the delicious powers of Açaí, a spritz of whipped cream, a bundle of blueberries, and a sprinkle of strawberries, and purple smiles will be shared far and wide. That's it! An easy 4th of July flag cake without the need for cake mix, frosting, food coloring, egg whites, or butter. Together we Açaí!
Ready In: 45 Minutes
Yield: 15 Servings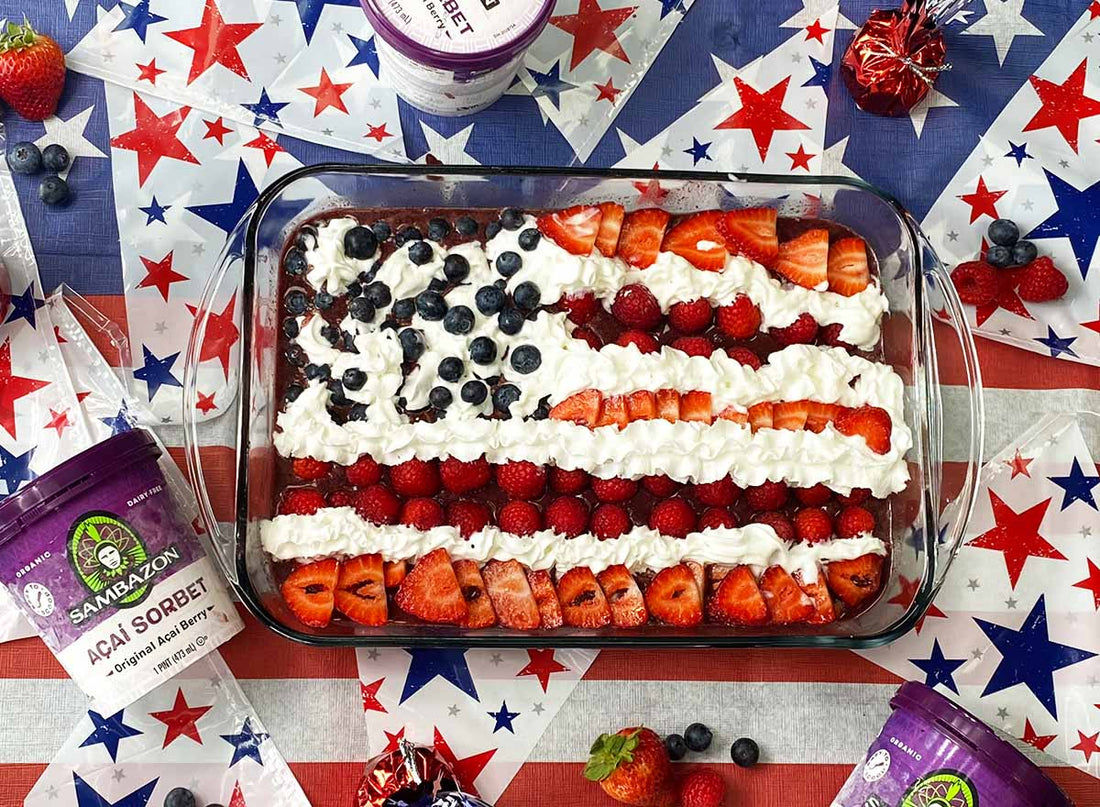 We created a delicious recipe that's fun to make with the family - including our all star ingredient - Organic Açaí Frozen Berry Sorbet. And the best part of this cake? It doesn't require any baking! Just like an ice cream cake, pop it in the freezer when you're finished so it firms up and serve the delicious slices to your patriotic party go-ers. Keep reading for the dessert recipe on how to make a Fourth of July cake.
Preparation
Slice your strawberries into thin triangle-like slices.
Scoop your 2 Pints of Açaí Sorbet into the bottom of a clear rectangular pan. You can also use a cake pan if you'd like.
Flatten the sorbet into a firm cake-like layer at the bottom of the pan with a spatula.
Layer your sliced strawberries flat in a line in the upper right corner of your pan, stopping a little past halfway down the pan.
Leave a little space between your strawberries, and start the next row by placing the raspberries pointing up. Layer these in two side by side stacks so they're as thick as the strawberry side.
Then add another half row with strawberries.
For the last two rows of raspberries and strawberries, layer across the entire pan.
Next, layer your blueberries in lines in the empty space in the upper left corner, like the blue section of the American flag.
Take your cans of whipped cream, and create lines between the rows of red berries for your white stripes.
Then use the whipped cream to create little stars of white in the upper left corner with the blueberries. You could also use powdered sugar or sprinkles for the stars, instead.
Layer more blueberries on top of the whipped cream on the left to make white star shapes.
If needed, add more fresh berries like sliced strawberries or raspberries on top of the whipped cream to better layer your red stripes.
Stick your sorbet cake into the fridge and freeze for about 30 minutes or until it's at a solid consistency.
Enjoy this decadent July 4th caked made with Açaí sorbet this holiday weekend and share the deliciousness with your loved ones! The combination of the silky sorbet with the refreshing berries and sweet cream is out of this world. And it'll be a hit among your dairy-free and vegan friends!
We can't wait to see you recreate this recipe and celebrate the holiday (and the magic of Açaí) with us! Discover the Magic of Açaí with SAMBAZON Açaí products. We've got plenty of other recipes, too. From pineapple smoothie bowls, to high-protein vegan breakfasts and so much more, you're sure to find a recipe you'll enjoy. Tag @sambazon to share your beautiful creations with us on Instagram and let us know how you're celebrating the fourth?
Together we Açaí
Get recipes, tips, and inspiration delivered to your inbox.
Comments
(0 Comments)
Please note, comments need to be approved before they are published.