Why Choose Our Organic Açaí Sorbet?
We're happy to bring you a delicious organic sorbet created with exotically delicious Açaí. Our Açaí is Fair Trade, organically-grown, ethically sources -- and absolutely delicious. When you choose Açaí sorbet from SAMBAZON, you're choosing quality Açaí delivered from the palm of the tree to the palm of your hand.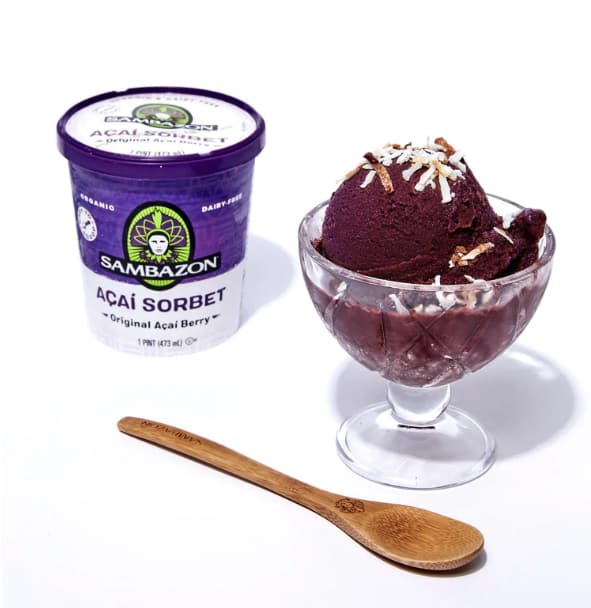 Step Up Your Dessert Game
Craving a snack? Yearning for a treat? Our frozen Açaí Sorbet will hit the (sweet) spot. Whereas most snacks and desserts are packed with unhealthy fillers, our refreshing non-dairy sorbet delivers superior taste and high-quality ingredients to your taste buds. Calling all spoons to try our frozen dessert that will satisfy your sorbet cravings. 
FAQ
Where Can I Buy Acai Sorbet?

Wondering where to buy acai? Look no further! Our premium Acai sorbet is available at select retailers and specialty food stores nationwide. Use our store locator to find a retailer near you and treat yourself to the irresistible taste of SAMBAZON Acai sorbet!
What is in Acai Sorbet?

Our Acai Sorbet is made with Acai berry puree from the Brazilian amazon, carefully blended with other organic ingredients to create a creamy and refreshing dessert. Savor the authentic taste of Acai with our non dairy sorbet that will satisfy your sweet cravings.
What Does Acai Sorbet Taste Like?

SAMBAZON's Acai Sorbet has a rich and creamy texture, a burst of bold berry flavor, and a hint of natural sweetness. The distinct taste of Acai berries shines through, offering a refreshing and slightly tangy sensation on your palate. The combination of Acai's robust flavor and the smoothness of our sorbet creates a harmonious balance that will leave your taste buds craving more.
What's the Difference Between Acai and Acai Sorbet?

The main difference between Acai and Acai Sorbet lies in their form and preparation. Acai refers to the small purple berries harvested from the Acai palm tree, while Acai Sorbet is a frozen dessert made from pureed Acai berries blended with other natural ingredients. While Acai can be consumed in various Acai products like smoothie packs or energy drinks, frozen acai sorbet offers a refreshing and indulgent treat with a creamy texture. The freezing process preserves the natural goodness of Acai while adding a delightful sorbet-like consistency, making it a popular choice for those seeking a delicious dessert option.
Can You Make an Acai Bowl with Acai Sorbet?

We recommend making Acai bowls with our Superfruit Packs or trying our premade Açaí Bowls as  great option for enjoying a delicious spoonful of Acai. We have countless Acai Bowl recipes that you can customize to your taste preferences and dietary needs. You can make an Acai Bowl with Acai Sorbet by scooping the sorbet as is for your base or blending it with your favorite fruits with a splash of liquid, like coconut water or almond milk, to achieve your desired consistency. Top it off with nutritious toppings like granola, fresh fruits, nuts, and seeds to enhance the flavors and textures.
Does Acai Sorbet Have Dairy?

Acai Sorbet is dairy-free, making it a perfect option for those who follow a dairy-free or vegan lifestyle. Our Acai Sorbet is crafted using only plant-based ingredients, ensuring that it is free from any dairy or animal products. You can enjoy the creamy and refreshing taste of Acai Sorbet without any concerns about dairy allergies or dietary restrictions. Try our dairy free sorbet and indulge in the luscious flavors of Acai.
How Many Calories are in Acai Sorbet?

In each container of our Acai Sorbet, there are 510 calories. If you're watching your calorie intake, you'll be glad to know that each serving of Acai Sorbet contains170 calories. We strive to provide you with a delicious and satisfying treat while keeping the nutritional information transparent.
How Can You Make Your Own Acai Sorbet?

Creating your own Acai Sorbet is indeed possible and can be a fun culinary adventure. For those interested in making their own sorbet, we highly recommend using our Frozen Acai Packets as the base. These packs contain the highest-quality organic Acai, ensuring you get the authentic flavor and benefits. You can find our Superfruit Packs on our website. However, we understand that making Acai Sorbet from scratch can be time-consuming and challenging to achieve the perfect texture and taste. That's why we offer our expertly crafted Acai Sorbet with a delightful flavor and smooth texture without the hassle.
Where to Buy Our Açaí Sorbet
There's no need to trek to the Amazon. Our assortment of Açaí products can be found in any major retailer, including Costco, Whole Foods Market, Safeway, Publix, Kroger, and Albertsons. Shop, stock up, and enjoy making Açaí bowls and smoothies at home.
FIND A STORE NEAR YOU