Almond Butter & Jelly Açaí Bowl Recipe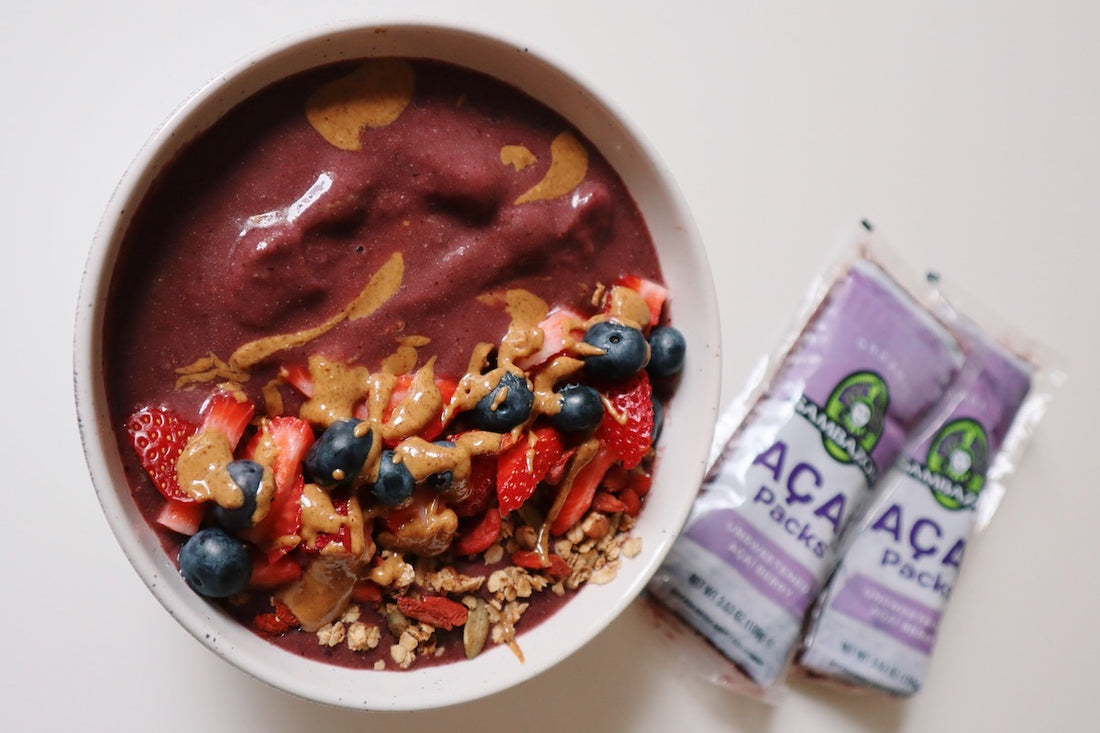 It's the middle of summer, and living in Miami this time of year means I'm always looking for ways to cool down…pretty much as soon as I wake up!
That's one reason why I make a smoothie bowl 9 times out of 10, and this Almond Butter & Jelly Açaí Bowl made with Sambazon Pure Unsweetened Açaí is at the top of my rotation. This deep purple berry Açaí bowl is bright, vibrant, creamy and super filling - add the toppings, and it's truly my favorite way to start the day!
As a Food Freedom Coach, I love empowering my clients (and myself) to fuel their physical, mental, and spiritual bodies. Physically, this bowl feels amazing because I'm obsessed with eating fruit first thing when I wake up! It helps me feel more awake, alive, energized, and refreshed. I also love including healthy fats in all of my meals - that's where the almond butter comes in! But did you know that aside from Sambazon açaí being high in antioxidants and vitamins, it's also a great source of omega fatty acids?! Hello SUPERfood!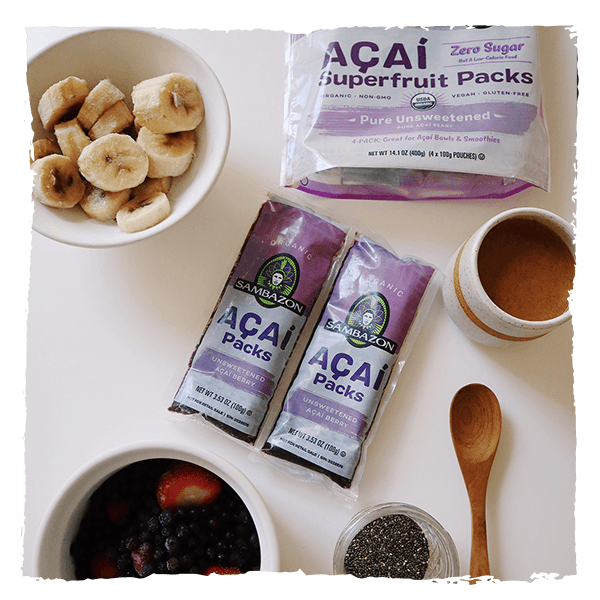 Mentally, this bowl nourishes me because it's easy to throw together (I'm always looking for stress-free, easy morning recipes), it cools me down instantly, and the creaminess from the frozen fruits is so so satisfying. It's almost like eating ice cream for breakfast!
Soul nourishment is about feeling happy…at peace…grounded in love…and pretty much any type of açaí bowl nourishes my soul in those ways! However, this Almond Butter & Jelly Açaí Bowl is especially loving for my soul because the berry/nut butter combo reminds me of childhood PB&J sandwiches! It's also super fun to eat with toppings - and fun food is nourishing food!
So, grab your Sambazon Pure Unsweetened Açaí, decide on your toppings, and let's dive into this bowl:

Ingredients
1 Packet of

Sambazon Pure Unsweetened Açaí

1 ½ Frozen Banana

½ Cup Frozen Strawberries

½ Cup Frozen Blueberries

1 Tbsp Chia Seeds

1 Tbsp Almond Butter

~⅓ Cup Water or Plant Milk to Blend (adjust amount for desired consistency)

Toppings: Granola, Strawberries, Blueberries, Goji Berries, Almond Butter
Preparation
Take your

Sambazon Pure Unsweetened Açaí

packet out of the freezer to thaw.

Add bananas to a blender.

Add açaì, berries, chia seeds, and almond butter to the blender.

Add desired amount of liquid and blend.

Top with granola, fruit, and almond butter drizzle!
No images available for this product.
Together we Açaí
Get recipes, tips, and inspiration delivered to your inbox
Comments
(0 Comments)
Please note, comments need to be approved before they are published.