Watermelon Açaí Smoothie Bowl
Frozen watermelon and banana paired with Açaí create the perfect refreshing and delicious smoothie bowl! Plus, you can place it in a scooped-out watermelon for the ultimate tropical-inspired summer treat.
4 hours 15 minutes
1 serving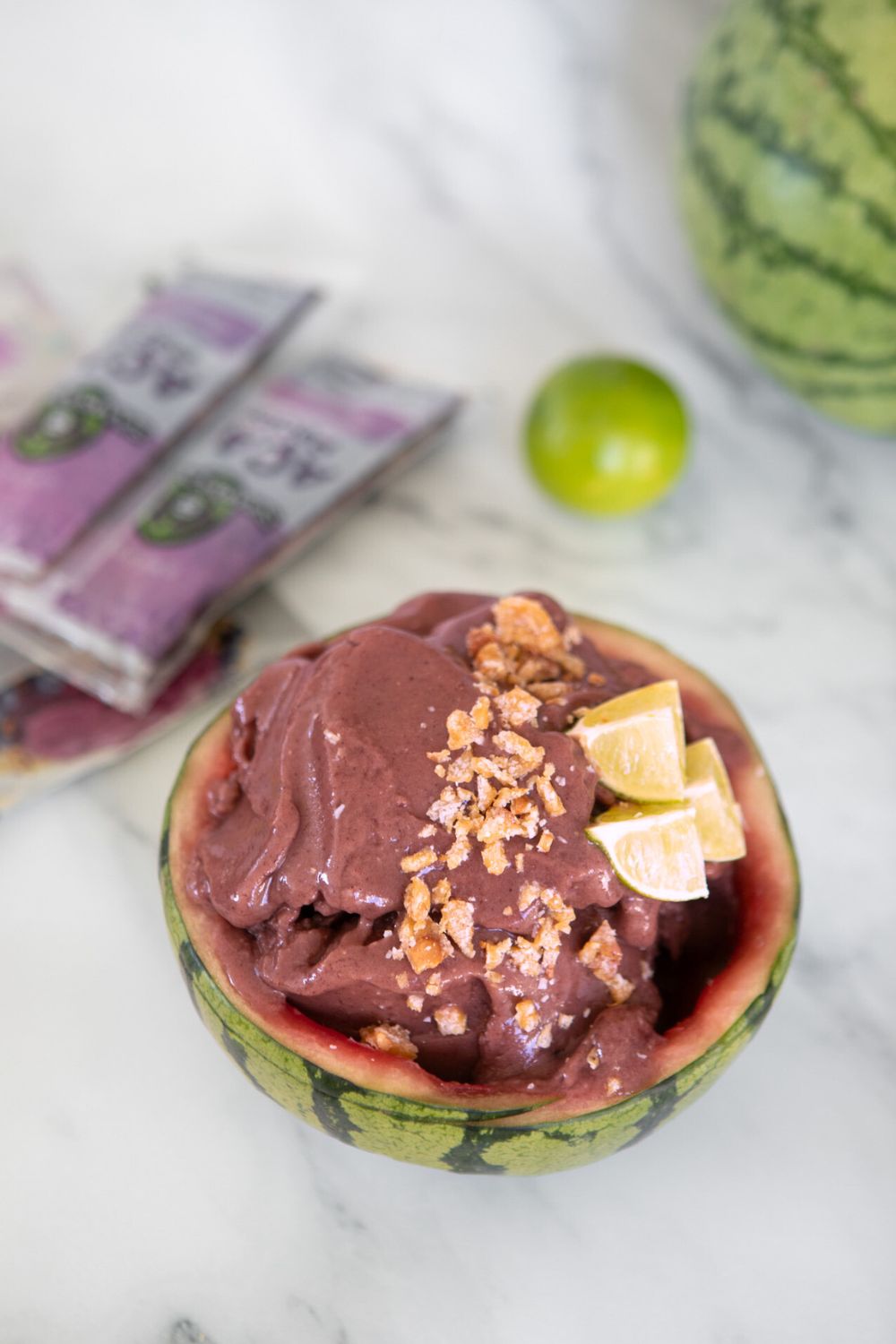 Not only is this smoothie bowl the perfect way to celebrate summer, but it's also the perfect way to celebrate National Watermelon Day! This smoothie is loaded with watermelon and uses the remaining watermelon as the bowl - so no watermelon goes to waste here.
Plus, with just 5 ingredients, this smoothie bowl recipe is insanely easy to make. All you have to do is scoop out your watermelon, add the ingredients to a blender, and that's it.
And not only does this smoothie bowl taste delicious, but it's also good for you. It contains antioxidants from Açaí and potassium from the banana. It's also incredibly hydrating and the perfect way to cool down after a hot day in the sun.
To make this watermelon smoothie bowl you'll need the following ingredients:
Watermelon
Of course to make this watermelon smoothie bowl, a watermelon is key! I highly recommend using a mini seedless watermelon as the smaller size works perfect for a bowl. You can use a spoon or melon baller to scoop out the watermelon and then place the scooped-out skin in the fridge while the watermelon pieces freeze.
Frozen Banana
To thicken this smoothie bowl, we are using a frozen banana. Using frozen banana is key to getting the thickest, creamiest texture. For a sweeter smoothie bowl, make sure to let your banana ripen more before freezing.
Unsweetened Coconut Milk
A bit of liquid goes a long way in this smoothie bowl. Since watermelon is 92% water, we don't need too much excess liquid. I recommend using canned unsweetened coconut milk for the creamiest texture, but any kind of plant-based milk will do. Start with a small amount and gradually increase, as necessary.
This smoothie recipe uses about one and a half unsweetened Açaí packets to make the Açaí flavor pop. However, you can use one or two depending on preference. If you use two, you may need to add a bit of extra liquid.
Lime
A splash of lime adds the perfect zing to this smoothie bowl. You can also garnish with lime for decoration.
Optional Toppings
Coconut / Cashews / Additional Fruit for smoothie bowl toppings.
Recipe
Watermelon Açaí Smoothie Bowl
Prep Time: 10 minutes | Freeze Time: 4 hours | Blend Time: 5 minutes | Ready In: 4 hours 15 minutes | Yield: 1 Serving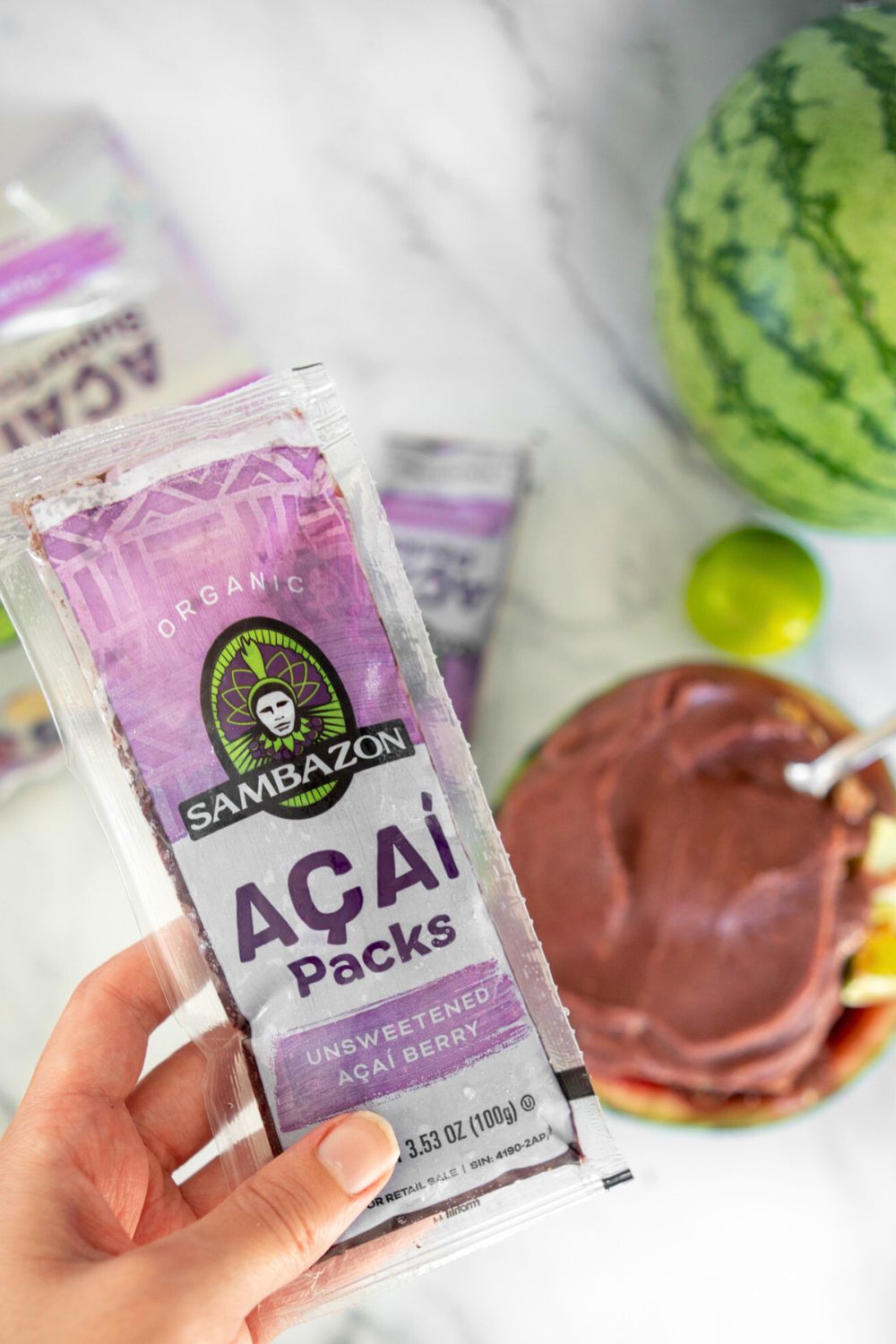 Ingredients
Optional Toppings:
Shredded coconut
Cashews, almonds, walnuts, etc.
Chia seeds and/or hemps seeds
Lime wedges
Banana slices, mango, blueberries, etc.
Preparation
Begin by cutting the watermelon in half, then using a spoon, scoop out one half of the watermelon.
Place the watermelon skin in the fridge - this will be the bowl for the smoothie.
Then, place the watermelon cubes in the freezer until frozen, at least 4 hours.
Once frozen, add the watermelon, banana, coconut milk, lime juice, and SAMBAZON Unsweetened Açaí Packets to a high-speed blender.
Blend until smooth, adding more coconut milk, as necessary.
Scoop the mixture out into the watermelon bowl.
Top with fresh fruit, lime wedges, shredded coconut, and/or any other toppings.
Enjoy!
Packed with watermelon and Açaí, this smoothie bowl is the perfect way to combat the hot weather! With just a few simple ingredients, you'll have a delicious, smoothie bowl served in a watermelon. It's almost too cute to eat!
Together we Açaí
Get recipes, tips, and inspiration delivered to your inbox.
Comments
(0 Comments)
Please note, comments need to be approved before they are published.