Dragon Fruit Frozen Smoothie Bowl
Store Locator
5.9 ounces per bowl
A no blend, ready-to-eat organic Smoothie bowl that thaws in minutes.
Creamy & delicious blend of red dragon fruit for an exotic flavor that is bursting with the taste of summer. Includes toasted coconut flakes topping. Customize by adding fresh fruit & other toppings of choice.
GUT HEALTH: Includes Prebiotics for balanced gut health support .
Bowl container is made from FSC Certified plant-fiber, is PFAS free and recyclable, for a meal that minimizes waste.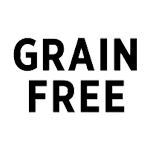 Ingredients

FILTERED WATER, DRAGON FRUIT (PITAYA)1, TAPIOCA SYRUP1, ORGANIC CANE SYRUP1, INULIN1, LESS THAN 0.5% OF: ORGANIC FLAVOR, CITRIC ACID, LOCUST BEAN GUM1, GUAR GUM1, VEGETABLE JUICE (FOR COLOR) 1, STEVIA EXTRACT1

TOPPING: COCONUT CHIPS1

1 ORGANIC INGREDIENT

CONTAINS: TREE NUTS (COCONUT). MADE IN A FACILITY THAT ALSO PROCESSES PEANUTS.
Nutrition Facts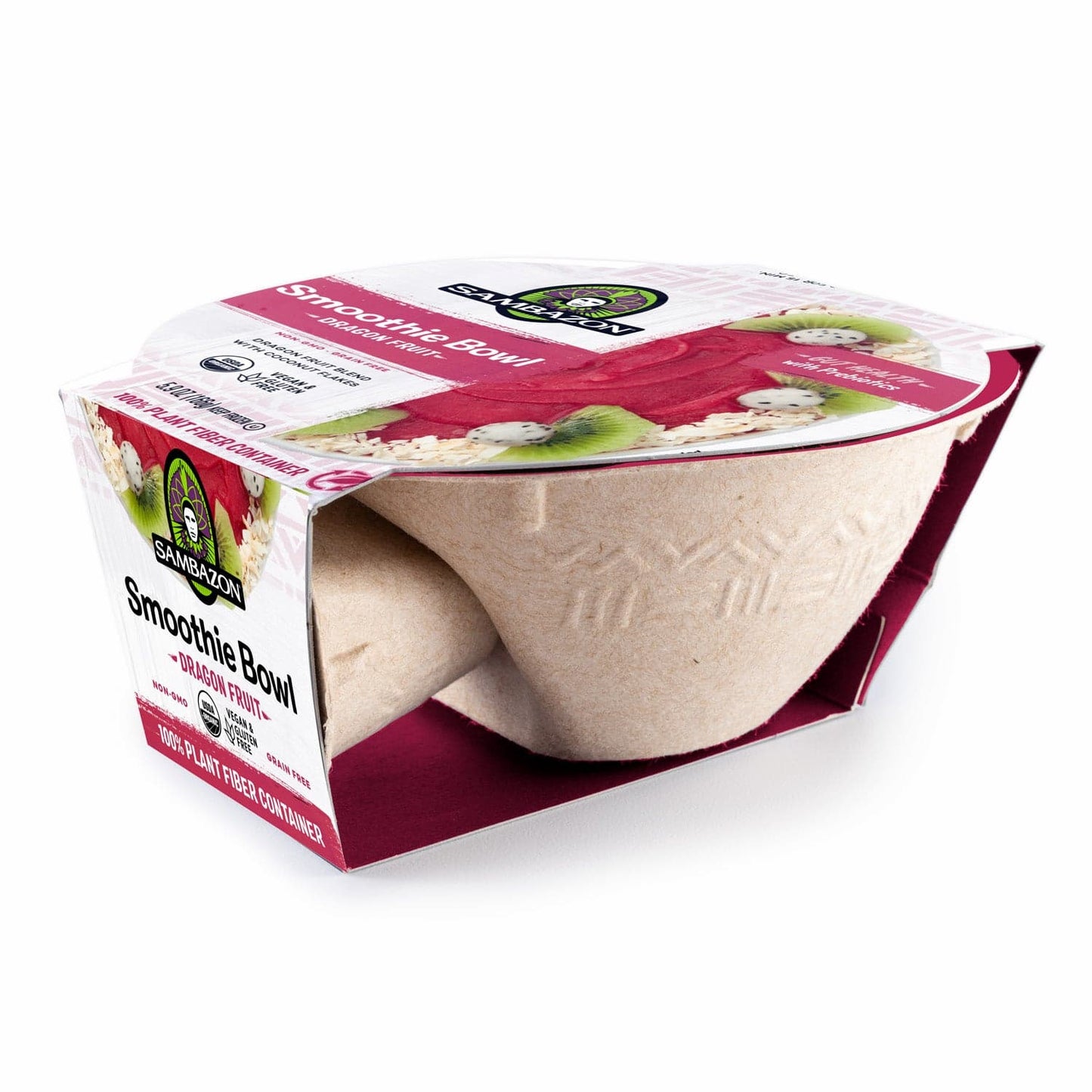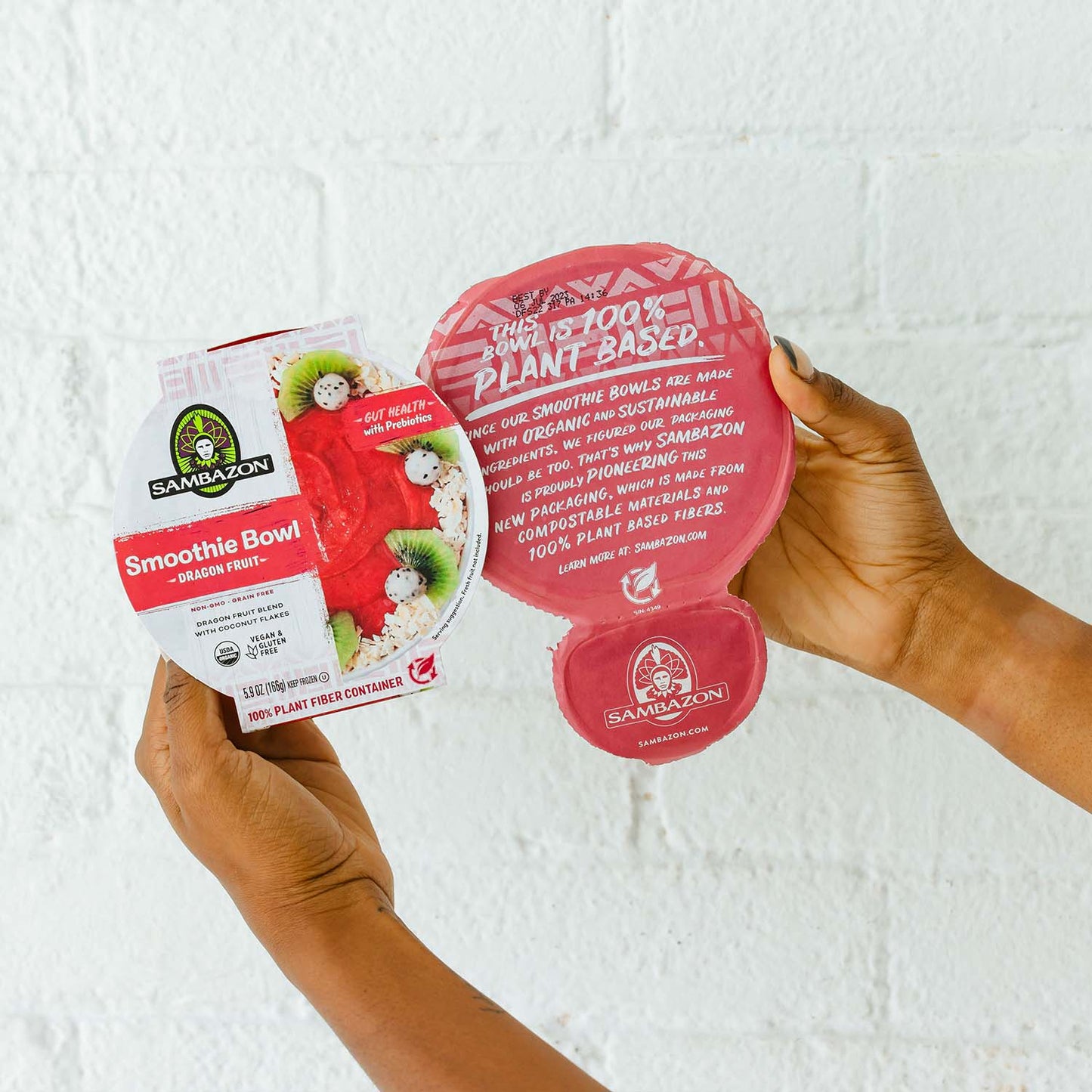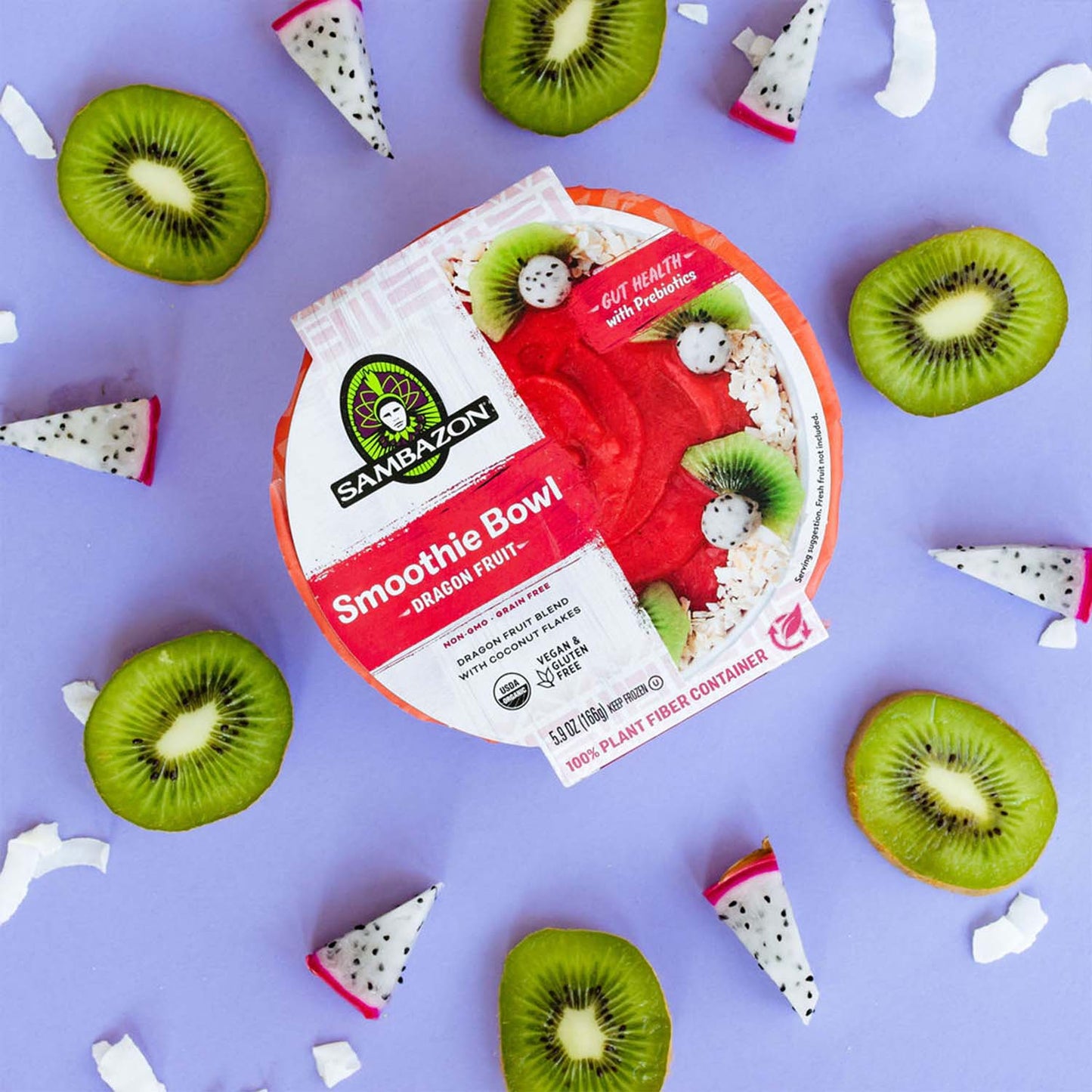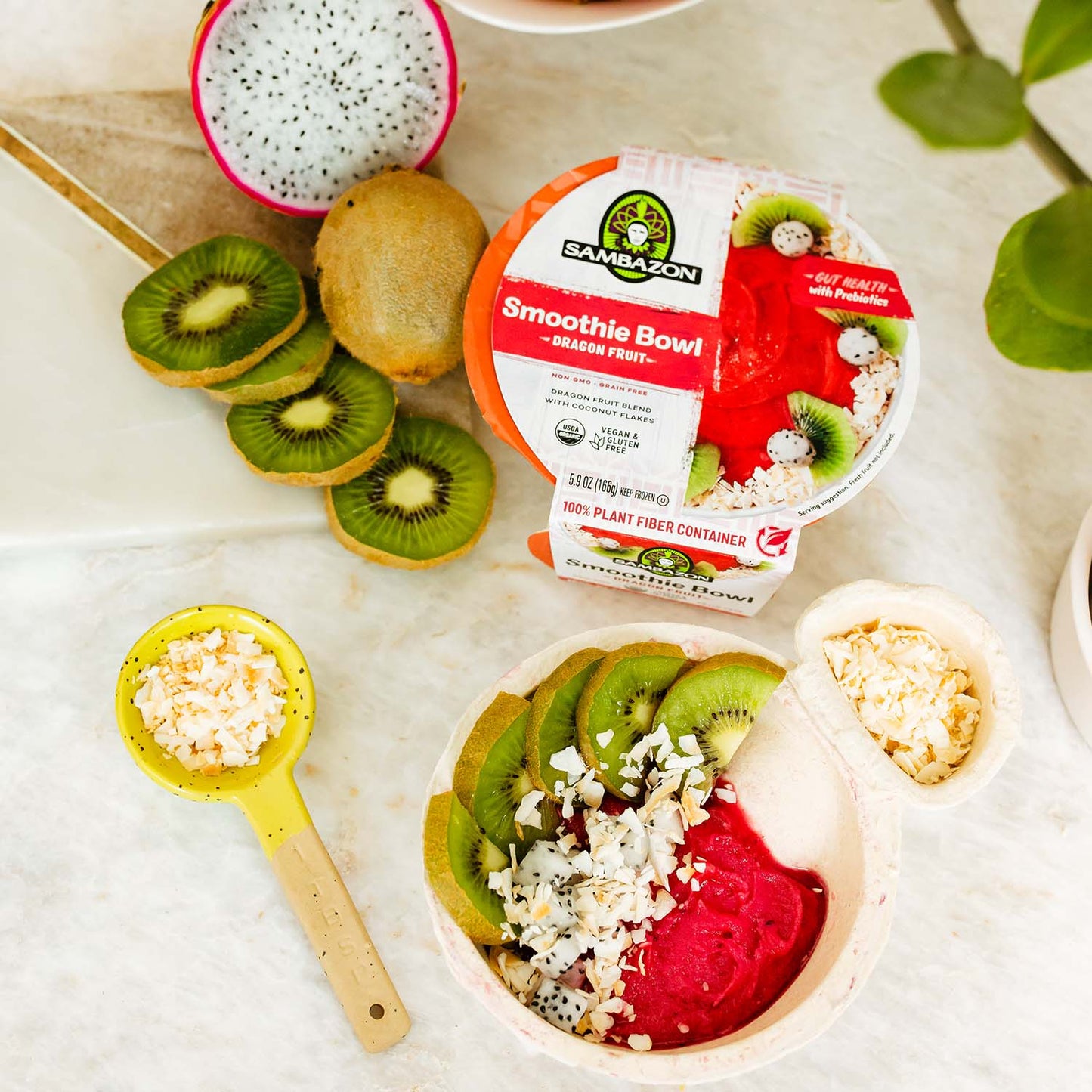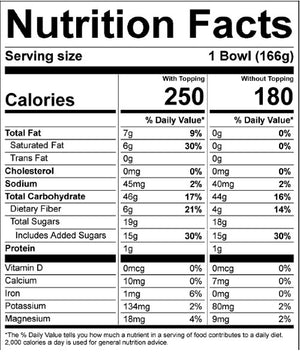 FAQ
Why choose our SAMBAZON Ready to Eat Açaí Bowls?

Fast. Affordable. Sustainable. What else could you ask for?
What do I do with the SAMBAZON Ready to Eat Açaí Bowl packaging when I finish devouring its delicious contents?

The best part of our SAMBAZON Ready to Eat Açaí Bowls? The packaging is made with 100% plant fiber container & recyclable packaging! You can reuse, recycle, or even upcycle these bad boys! Check out this awesome video to see how to upcycle your bowl by taking something no longer in use and giving it a second life and new function.
What is the SAMBAZON Ready to Eat Bowl packaging made of?

We are proud to say that the packaging of our SAMBAZON Ready To Eat Açaí Bowls is made from 100% plant-based fiber from recycled paper. Every part of the packaging, from the bowl, to the film, sleeve, and adhesive is made from PFAS free, FSC certified plant-based material. We realize that we can continue to improve to reduce our impact on plastic pollution and are constantly working hard to do so by testing new, sustainable solutions destined to change the face of the industry.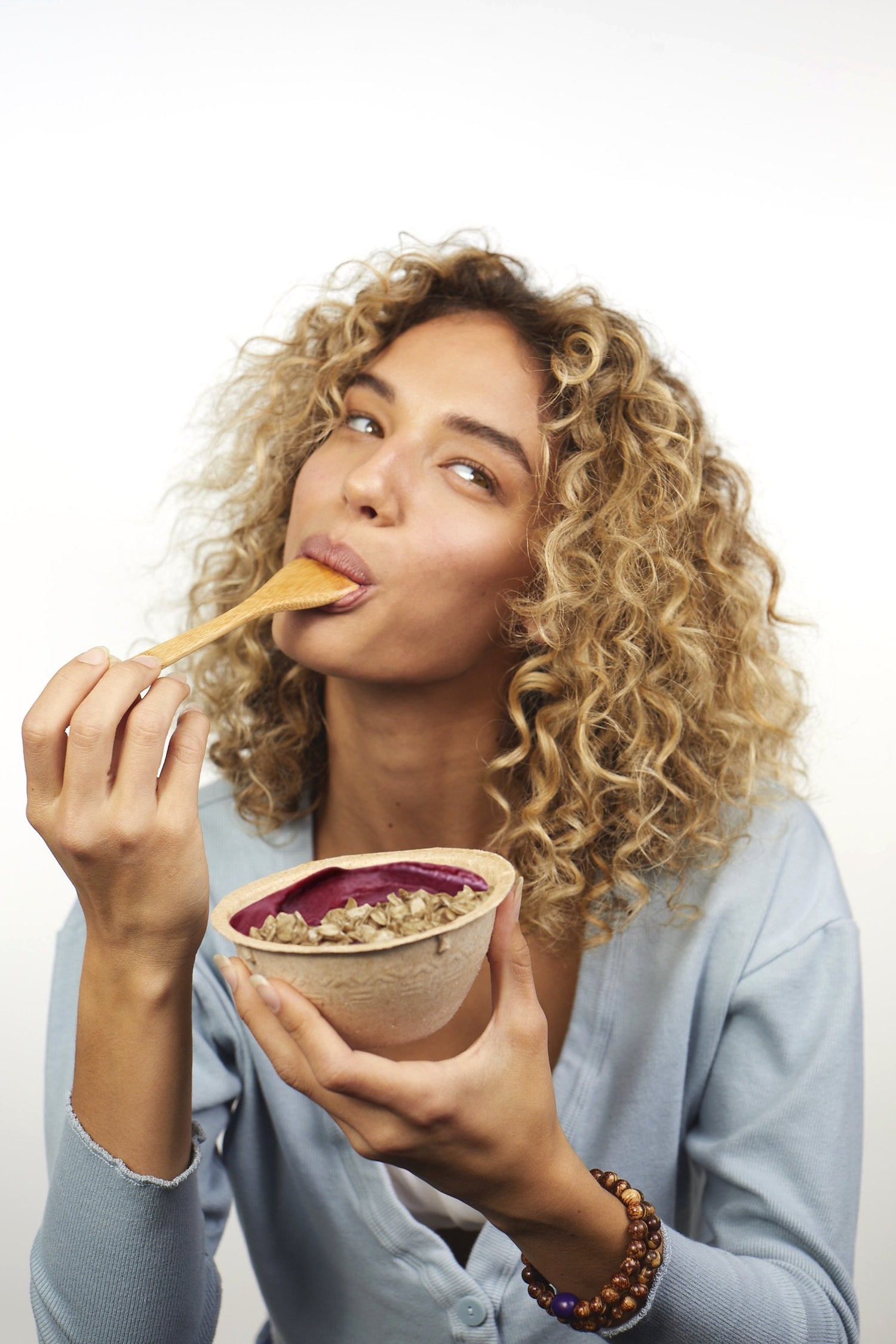 Why Choose our Organic Dragon Fruit Smoothie Bowl?
A no blend, ready-to-eat dragon fruit smoothie bowl that thaws in minutes. A decadent plant-based blend of red dragon fruit with coconut flakes topping for the ultimate exotic flavor. Our Ready-to-Eat smoothie bowls are plant-based, recyclable, and convenient for those looking to enjoy smoothie bowls without spending the extra time with a blender. Discover the delicious taste of dragon fruit today.
Where to Buy Our Açai & Smoothie Bowls
There's no need to trek to the Amazon. Our Açaí products can be found at sambazon.com or any major retailer, including Costco, Whole Foods Market, Target, Walmart, Publix, Kroger, and Albertsons. Stock up and save lots by keeping these Açaí must haves on hand.
Find A Store Near you